Print Options:
Mediterranean Shrimp Salad in Cucumber Cups


Yields
Makes 18 hors d'oeuvres

Shrimp with lemon, parsley, and garlic echoes classic shrimp scampi, but here it's a cooling salad. Prep and Cook Time: 25 minutes. Notes: Prep the cups up to 1 hour ahead; assemble just before serving. They're juicy, so serve with napkins.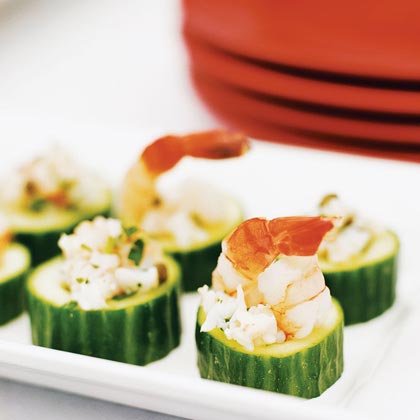 Ericka McConnell
1/4 cup extra-virgin olive oil
2 tablespoons lemon juice
2 tablespoons chopped parsley
1 tablespoon minced drained capers
1/2 pound peeled, deveined cooked shrimp, chopped (plus 8 to 10 extra whole shrimp for garnish, if desired)
Salt and freshly ground pepper
2 English cucumbers, each about 1 1/2 inches wide (1 1/3 lb. total)
Step 1
1
In a bowl, whisk together the olive oil, lemon juice, parsley, capers, and garlic. Add shrimp and season with salt and pepper to taste.
Step 2
2
Cut the cucumbers into 18 3/4-inch slices. With a melon baller or small spoon, scrape out about half the flesh from the center of each slice. Fill each cup with shrimp salad, or, for an even prettier presentation, place a whole shrimp upside down into about half the cucumber cups, then spoon the salad around it.
Step 3
3
Note: Nutritional analysis is per serving.
Nutrition Facts
Servings Makes 18 hors d'oeuvres
---
Amount Per Serving

Calories 43

Calories from Fat 67

% Daily Value *

Total Fat 3.2g

5

%

Saturated Fat 0.5g

3

%

Cholesterol 25mg

9

%

Sodium 50mg

3

%

Total Carbohydrate 0.7g

1

%

Dietary Fiber 0.2g

1

%

Protein 2.9g

6

%
---
* Percent Daily Values are based on a 2,000 calorie diet. Your daily value may be higher or lower depending on your calorie needs.