Print Options:
Mediterranean Garden Wraps


Yields
Serves 4


Total Time
30 mins
Time: 30 minutes. Here's a simple yet satisfying way to get more vegetables into your day. Feel free to experiment, changing up the vegetables you use based on what's in season, as well as the bread. Tortillas make good wraps, and the fillings are excellent in pita bread.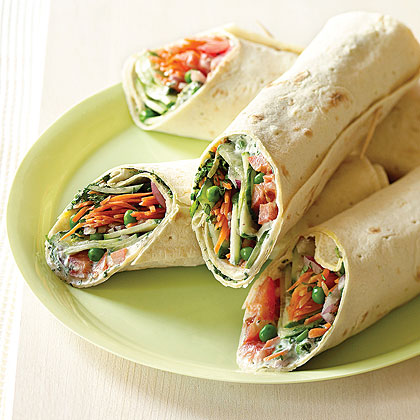 Photo: Annabelle Breakey; Styling:Randy Mon
1 tablespoon chopped fresh mint
1 tablespoon chopped chives
1 tablespoon chopped cilantro
1 1/2 cups shredded carrots
1 1/2 cups sliced cucumber
2 tomatoes, halved and thinly sliced
Step 1
1
In a small bowl, combine yogurt, herbs, and salt; set aside. In a medium bowl, combine carrots, cucumber, red onion, and cooked peas.
Step 2
2
Lay 1 sheet lavash on a work surface with a long edge parallel to the table. Spoon about 1/4 of yogurt mixture lengthwise down the center of lavash. Lay 1/4 of tomatoes over yogurt, then arrange about 1/4 of carrot mixture over tomatoes. Fold 1 side of lavash over vegetables and roll up to meet other side. Secure with a few toothpicks, then cut in half. Repeat with remaining lavash and fillings.
Step 3
3
*Soft Mediterranean flatbread, available at well-stocked grocery stores.
Step 4
4
Note: Nutritional analysis is per serving.
Nutrition Facts
Servings 0
---
Amount Per Serving

Calories 357

Calories from Fat 18

% Daily Value *

Total Fat 7.2g

12

%

Saturated Fat 4.7g

24

%

Cholesterol 10mg

4

%

Sodium 526mg

22

%

Total Carbohydrate 59g

20

%

Dietary Fiber 5.8g

24

%

Protein 15g

30

%
---
* Percent Daily Values are based on a 2,000 calorie diet. Your daily value may be higher or lower depending on your calorie needs.