Print Options:
Lemon Verbena Ice Cream


Yields
Makes 1 qt.


Prep Time
45 mins

Steep and Freeze Time
6 hrs

Total Time
6 hrs 45 mins
Lemon verbena leaves are very fragrant and make excellent crème brûlée and ice cream. Verbena (as it's most often called) isn't widely available in markets, but it's easy to grow. If you don't happen to have some handy, you can use another aromatic herb such as mint or tarragon.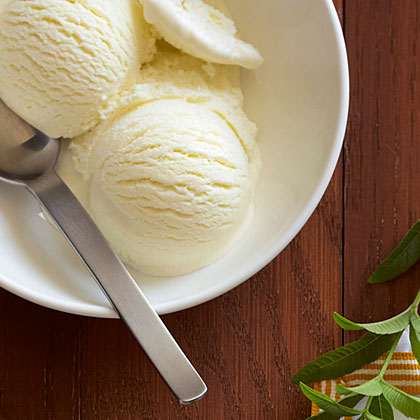 Photo: Annabelle Breakey; Styling: Randy Mon
2 cups lemon verbena leaves
Step 1
1
Heat cream and milk together in a 4 qt. pot. When liquid boils, remove from heat, add verbena leaves, and cover. Steep about 2 hours to develop flavors.
Step 2
2
Strain liquid and return to pot; discard leaves. Heat liquid over high heat until it reaches a simmer.
Step 3
3
Whisk together yolks and sugar just as liquid reaches a simmer. Working in 1/2 cup increments, add hot liquid to yolk and sugar mixture until mixture is warm and the consistency of milk. Pour custard into pot and cook over high heat, stirring constantly, until slightly thickened, about 5 minutes. Do not let boil.
Step 4
4
Strain custard into a bowl and nestle in another bowl filled with ice water to chill, stirring occasionally, until cold to the touch.
Step 5
5
Churn custard in an ice cream maker according to manufacturers' instructions. Freeze in an airtight container until firm, about 4 hours.
Nutrition Facts
Servings 0
---
Amount Per Serving

Calories 327

Calories from Fat 60

% Daily Value *

Total Fat 22g

34

%

Saturated Fat 13g

65

%

Cholesterol 161mg

54

%

Sodium 50mg

3

%

Total Carbohydrate 30g

10

%

Dietary Fiber 0.0g

0

%

Protein 4.5g

9

%
---
* Percent Daily Values are based on a 2,000 calorie diet. Your daily value may be higher or lower depending on your calorie needs.