Print Options:
Lemon Cashew Chicken Salad


Yields
Makes 6 servings


Total Time
45 mins
An unusual, fresh-tasting version that's lower in fat than the standard but not at all dry, thanks to the thick, creamy yogurt that replaces half the mayo. Prep and Cook Time: about 45 minutes. Notes: Serve on lettuce if you like, or use to fill a sandwich, maybe with sweet onion for crunch—or, in summer, a slice of ripe tomato.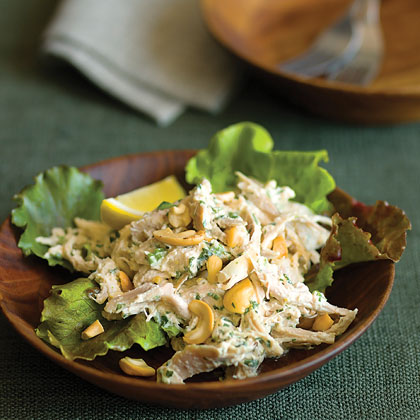 Leo Gong, Randy Mon
1 teaspoon coriander seeds
3 tablespoons minced fresh ginger
1 to 3 tbsp. finely chopped jalapeño chile
1/3 cup low-fat or whole milk Greek strained yogurt
1/2 cup chopped fresh cilantro
1/2 cup chopped green onions
4 cups shredded white and dark chicken meat (from one 2 1/2- to 3-lb. rotisserie chicken)
Step 1
1
In a medium frying pan over low heat, toast cumin and coriander seeds until fragrant, 3 to 5 minutes. Transfer seeds to a spice grinder and process until finely ground. Zest lemons and set aside zest. Juice 1 lemon and set aside 3 tbsp. juice.
Step 2
2
Melt butter in the frying pan over medium heat. Add ginger, jalapeño, and salt. Cook until jalapeño is soft, 3 to 5 minutes. Remove from heat and set aside.
Step 3
3
In a large bowl, stir together mayonnaise, yogurt, lemon zest, lemon juice, ginger-jalapeño mixture, and ground spices. Add cilantro, green onions, and chicken; stir to coat well with dressing. Taste and adjust seasonings as needed. Sprinkle with cashews and serve.
Step 4
4
Note: Nutritional analysis is per serving.
Nutrition Facts
Servings Makes 6 servings
---
Amount Per Serving

Calories 273

Calories from Fat 66

% Daily Value *

Total Fat 20g

31

%

Saturated Fat 6g

30

%

Cholesterol 101mg

34

%

Sodium 860mg

36

%

Total Carbohydrate 4.2g

2

%

Dietary Fiber 0.6g

3

%

Protein 20g

40

%
---
* Percent Daily Values are based on a 2,000 calorie diet. Your daily value may be higher or lower depending on your calorie needs.