Print Options:
Lebanese Meat Loaf


Yields
Makes 4 servings

"My father is Lebanese. I remember the flat bread that his sister made, and grape leaves, and kibbeh—the foods we ate when we gathered as a family. Kibbeh was sort of a steak tartare. My dad ate it raw; no one else would. We flattened it in a pan and baked it like meat loaf," says fiber artist Dana Boussard of Arlee, Montana.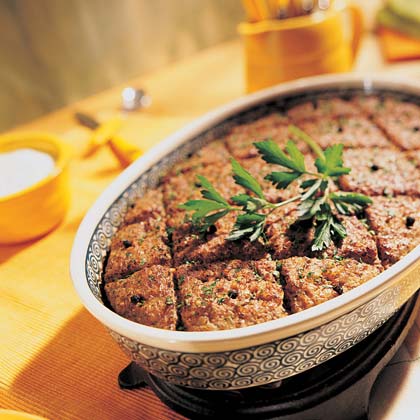 James Carrier
2 cups coarsely chopped onions
1 pound ground lean (7% fat or less) beef or lamb
1/2 teaspoon ground cumin
1/2 teaspoon ground cinnamon
1 cup plain nonfat yogurt
Step 1
1
Place bulgur in a fine strainer and rinse thoroughly with cool water.
Step 2
Step 3
3
Add bulgur and 1/4 cup parsley; whirl just to mix.
Step 4
4
Pat meat mixture evenly into a shallow 1- to 1 1/2-quart casserole. Cut through meat mixture to make diamonds 2 to 3 inches wide. Place a peppercorn in the center of each diamond.
Step 5
5
Bake, uncovered, in a 425° oven until meat is no longer pink in center (cut to test), about 25 minutes. Sprinkle with remaining parsley and add salt to taste.
Step 6
6
To serve, cut diamonds apart and accompany with yogurt.
Nutrition Facts
Servings 0
---
Amount Per Serving

Calories 357

Calories from Fat 22

% Daily Value *

Total Fat 8.8g

14

%

Saturated Fat 3.2g

16

%

Cholesterol 66mg

22

%

Sodium 674mg

29

%

Total Carbohydrate 39g

13

%

Dietary Fiber 8g

32

%

Protein 32g

64

%
---
* Percent Daily Values are based on a 2,000 calorie diet. Your daily value may be higher or lower depending on your calorie needs.