Print Options:
Lasagna with Sausage Ragù


Yields
Makes 6 to 8 servings


Total Time
3 hrs
Layers of ragù and creamy, nutmeg-scented béchamel are a subtle departure from the familiar cheese-laden lasagna favored by many Americans; our version is actually closer to authentic Italian lasagna. However, we streamlined the ragù by using sweet Italian sausage instead of the traditional beef, pork, and/or veal blend. Prep and Cook Time: 3 hours. Notes: Imported, commercially produced dried lasagna noodles (the kind you boil first) work well in this recipe, but if you can find fresh noodles at a specialty shop, try those instead. Just boil the noodles a few at a time for 2 minutes, plunge in an ice bath, and dry before assembling.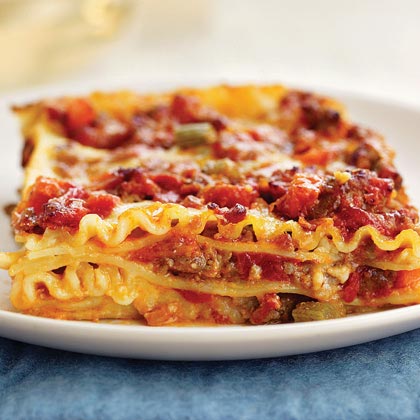 Jim Franco
1 tablespoon vegetable oil
1/2 cup onion, cut into 1/4-in. dice
1/2 cup carrots, cut into 1/4-in. dice
1/2 cup celery, cut into 1/4-in. dice
1 pound bulk sweet Italian sausage (or 1 lb. sausage links removed from their casings)
1 can (28 oz.) whole tomatoes, including juices, finely chopped or crushed with your hands
Freshly ground black pepper
1/4 teaspoon freshly grated nutmeg
12 ounces lasagna noodles (see Notes)
1 cup good-quality grated parmesan
Step 1
1
In a large, heavy-bottomed saucepan, melt 2 tbsp. butter in oil over medium heat. Add onion and cook until golden, about 5 minutes. Add carrots and celery and cook 5 more minutes. Add sausage and 1/2 tsp. salt, breaking up meat with a wooden spoon, and cook until meat loses its raw color.
Step 2
2
Add 1 cup milk and cook over medium heat, stirring, until completely absorbed, 10 to 12 minutes. (The milk will appear quite curdled at this point; don't be alarmed.) Add wine and cook until reduced by half, about 3 minutes. Add tomatoes, bring to a boil, lower heat, and gently simmer, uncovered, 2 hours. Season with salt and pepper to taste.
Step 3
3
After the ragù has cooked for 1 1/2 hours, make the béchamel by melting remaining 5 tbsp. butter in a heavy-bottomed saucepan over medium heat. Add flour and cook, stirring constantly, until it turns light golden brown, about 5 minutes. Slowly drizzle in remaining 3 cups milk, whisking constantly. Bring to a simmer and continue to cook, whisking, until thickened, about 10 minutes. Season with remaining 1 tsp. salt, nutmeg, and pepper to taste.
Step 4
4
Preheat oven to 375°. Cook lasagna noodles according to package directions, being careful not to overcook. Drain and lay flat on dish towels, making sure the noodles do not overlap. Butter the bottom of a 9- by 13-in. baking dish and coat with about 1/2 cup of ragù. Add a single layer of noodles (for most brands this is 4 sheets per layer). Spread on 1/3 of the béchamel; top béchamel with 1/4 of the remaining ragù, then 1/4 of the parmesan. Repeat layering two more times, covering final layer with remaining ragù and parmesan.
Step 5
5
Cover lasagna with buttered aluminum foil and bake 20 minutes. Uncover and bake an additional 10 minutes, or until the top browns slightly. Let sit 15 minutes before serving.
Step 6
6
Note: Nutritional analysis is per serving.
Nutrition Facts
Servings 0
---
Amount Per Serving

Calories 721

Calories from Fat 55

% Daily Value *

Total Fat 44g

68

%

Saturated Fat 20g

100

%

Cholesterol 111mg

37

%

Sodium 1617mg

68

%

Total Carbohydrate 54g

18

%

Dietary Fiber 2.7g

11

%

Protein 28g

57

%
---
* Percent Daily Values are based on a 2,000 calorie diet. Your daily value may be higher or lower depending on your calorie needs.