Print Options:
King Crab with Lemon Grass-Ginger Butter and Roasted Potatoes


Yields
Makes 5 or 6 servings

Notes: Jack Amon, chef at the Marx Bros. Café in Anchorage, serves Alaska king crab with a simple butter sauce and hearty potatoes. If you buy the crab legs thawed, you can have the fishmonger crack them for you, or use a nutcracker or wood mallet to crack the shell along each section of crab legs. Cracked Dungeness crab is also delicious brushed with the lemon grass-ginger butter, then broiled (step 4).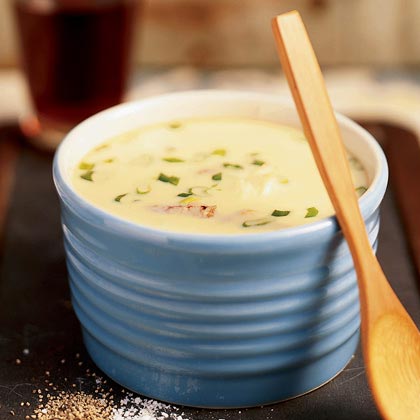 James Carrier
1 3/4 pounds red thin-skinned potatoes (each 2 to 2 1/2 in. wide)
2 tablespoons grated parmesan cheese
2 tablespoons minced shallot or onion
1 tablespoon minced parsley
5 pounds thawed frozen cooked Alaska king crab legs, cracked (see notes)
1 tablespoon minced fresh basil leaves or 1 teaspoon dried basil
Step 1
1
Scrub potatoes; cut each in half across widest dimension and brush cut sides with lemon grass-ginger butter, about 1 tablespoon total. Set potatoes cut side up in a shallow 3-quart casserole (about 9 by 13 in.).
Step 2
2
Bake in a 400° regular or convection oven for 20 minutes. Turn potatoes cut side down and bake until well browned and tender when pierced, 20 to 30 minutes longer.
Step 3
3
Meanwhile, in a small bowl, mix parmesan cheese, shallot, parsley, and garlic. When potatoes are done, sprinkle mixture evenly over them. Cover and keep warm.
Step 4
4
Arrange crab legs in a single layer in an 11- by 17-inch pan. Brush with lemon grass-ginger butter, using about 2 tablespoons total. Broil 4 to 6 inches from heat until meat is hot in center of thickest part of leg (cut where cracked to test), 8 to 10 minutes.
Step 5
5
Transfer crab legs to a platter, arrange potatoes around them, and sprinkle with the minced fresh basil. Serve with the remaining lemon grass-ginger butter to add to taste.
Nutrition Facts
Servings 0
---
Amount Per Serving

Calories 381

Calories from Fat 23

% Daily Value *

Total Fat 9.6g

15

%

Saturated Fat 4g

20

%

Cholesterol 228mg

76

%

Sodium 687mg

29

%

Total Carbohydrate 25g

9

%

Dietary Fiber 2.3g

10

%

Protein 46g

92

%
---
* Percent Daily Values are based on a 2,000 calorie diet. Your daily value may be higher or lower depending on your calorie needs.