Print Options:
Jasmine Chicken Soup with Green Tea Soba


Yields
Serves 6


Total Time
1 hr 15 mins
Eating this soup from Eric Gower, author of The Breakaway Cook, makes you feel energized--almost like you've had an immunity boost. Feel free to substitute different vegetables. And if you have extra broth, just simmer more vegetables in it the next day to create a fantastic, and nearly instant, soup.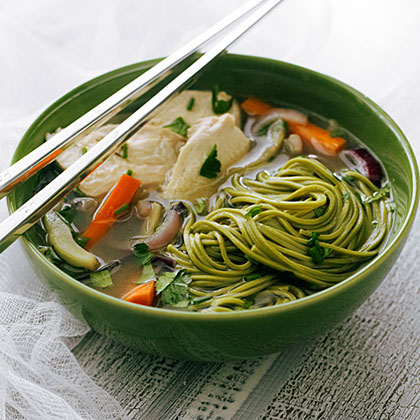 Photo: Iain Bagwell; Styling: Emma Star Jensen
3 tablespoons grapeseed or canola oil, divided
3 medium-large carrots, peeled and sliced into 2- by 1/2-in. sticks
2 medium red onions, sliced into half-moons
1 large fennel bulb, stalks trimmed and bulb cored and sliced into thin strips
1 1/2 ounces fresh ginger, peeled and sliced into matchsticks (a generous 1/4 cup)
About 1 tsp. kosher salt, divided
About 1 tsp. pepper, divided
2 tablespoons loose-leaf jasmine tea
2 qts. reduced-sodium chicken broth
2 bone-in, skin-on chicken breasts (2 lbs. total)
1 tablespoon freshly ground coriander seeds
1/2 pound green tea soba noodles or spaghettini (about 8 oz.)
1/4 cup mixed chopped parsley, chives, and cilantro
Step 1
1
Preheat oven to 375°. Heat 2 tbsp. oil in a large, heavy ovenproof frying pan or wok over medium heat. Add carrots, onions, fennel, ginger, and 1/2 tsp. each salt and pepper. Cook, stirring often, until vegetables soften, about 9 minutes. Transfer to a bowl and wipe pan clean.
Step 2
2
Boil 3 cups water. Remove from heat, add tea leaves, cover, and let steep 5 minutes. Heat chicken broth to a slow simmer in a pot. Strain tea into broth. Season broth with some salt and set aside, covered.
Step 3
3
Dry chicken with paper towels. Rub with 1 tsp. oil. Season all over with 1/2 tsp. each salt and pepper and the coriander.
Step 4
4
Heat same pan used for vegetables over high heat. Drizzle in remaining 2 tsp. oil, then add chicken, skin side down. Cook until skin turns very dark brown, almost black; then flip over with tongs and transfer pan to oven. Bake chicken until just opaque, in center, about 15 minutes (cut to check). Let stand until cool enough to handle.
Step 5
5
Cook soba according to package directions. Drain and rinse. Remove chicken skin and slice meat from bones. Put 6 large, wide bowls into turned-off oven to warm. Bring broth to a simmer, covered.
Step 6
6
Pile noodles into bowls. Top with chicken and vegetables, then ladle in broth. Sprinkle with herbs.
Nutrition Facts
Servings 0
---
Amount Per Serving

Calories 412

Calories from Fat 26

% Daily Value *

Total Fat 12g

19

%

Saturated Fat 2.1g

11

%

Cholesterol 93mg

31

%

Sodium 842mg

36

%

Total Carbohydrate 42g

15

%

Dietary Fiber 4.6g

19

%

Protein 36g

72

%
---
* Percent Daily Values are based on a 2,000 calorie diet. Your daily value may be higher or lower depending on your calorie needs.