Print Options:
Japanese Tofu Skewers on Soba


Yields
Serves 2 to 4


Total Time
40 mins
Tofu holds up beautifully on the grill as long as you use the firm nigari kind. You'll need 4 metal skewers (10 to 12 in. each) or wooden skewers soaked in water to prevent burning.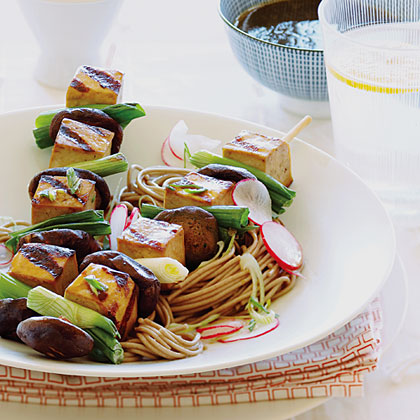 Photo: Annabelle Breakey; Styling: Karen Shinto
1/2 cup reduced-sodium soy sauce
1/2 cup mirin (sweet rice wine)
2 tablespoons toasted sesame oil
10 to 12 ounces nigari tofu*, cut into 1-in. cubes
16 small fresh shiitake mushroom caps
2 tablespoons vegetable oil
4 green onions, cut into 1 1/2-in. lengths
12 ounces dried soba noodles
8 radishes, thinly sliced
2/3 cup reduced-sodium vegetable broth
Step 1
1
Heat grill to medium (350° to 450°).
Step 2
2
Mix soy sauce, mirin, and sesame oil in a bowl. Add tofu and marinate 10 minutes.
Step 3
3
Heat a large pot of water to boiling. In a bowl, toss mushrooms in oil to coat.
Step 4
4
Drain tofu, reserving marinade. Slip cubes onto 4 metal or soaked wooden skewers, alternating with green onions and mushrooms. Thinly slice any leftover onion.
Step 5
5
Boil noodles in water until al dente, 4 minutes. Drain; rinse well with cold water. Divide noodles among dinner bowls and garnish with radishes and sliced onion.
Step 6
Step 7
7
Mix marinade with broth, wasabi, lemon zest, and juice and serve on the side.
Step 8
8
*Buy nigari in the refrigerated section of your grocery store.
Step 9
9
Note: Nutritional analysis is per skewer plus 1/4 of noodles.
Nutrition Facts
Servings 0
---
Amount Per Serving

Calories 595

Calories from Fat 28

% Daily Value *

Total Fat 19g

30

%

Saturated Fat 2.3g

12

%

Cholesterol 0.0mg

0

%

Sodium 1900mg

80

%

Total Carbohydrate 85g

29

%

Dietary Fiber 2.2g

9

%

Protein 23g

46

%
---
* Percent Daily Values are based on a 2,000 calorie diet. Your daily value may be higher or lower depending on your calorie needs.