Print Options:
Italian Farro with Sausage and Apples


Yields
Makes about 6 cups; 4 to 6 side-dish servings

Notes: Farro, a wheatlike grain, makes a delicious alternative to cracked wheat, rice, and similar side-dish carbs with meats, poultry, and fish. Cooked with sausage, then mixed with diced apples for a sweet crunch, farro makes a savory side dish for roast chicken.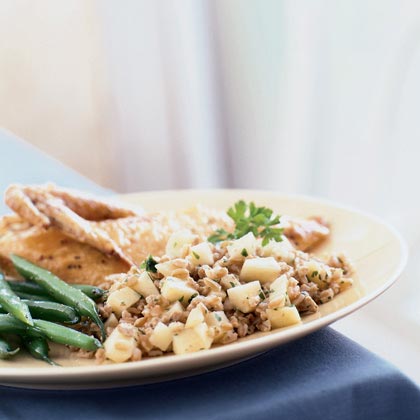 James Carrier
1 cup hulled whole-grain farro
3/4 cup bulk pork sausage (about 3 oz.) or pork sausages, casings removed
Butter or olive oil (if needed)
2 1/2 cups fat-skimmed chicken broth
1 cup finely chopped parsley
2 tablespoons lemon juice
Step 1
1
Sort farro, discarding strawlike bits of hulls and other debris. Pour farro into a bowl, cover completely with cool water, stir, and skim off and discard any additional hulls that float to the surface. Drain farro.
Step 2
2
In a 5- to 6-quart pan over high heat, crumble sausage with a spoon and stir often until browned, about 5 minutes. Spoon out and discard all but 1 tablespoon fat or, if necessary, add butter to equal 1 tablespoon fat in pan. Add farro to sausage in pan and stir until grains are dried, about 2 minutes.
Step 3
3
Add broth and bring to a boil, then reduce heat, cover pan, and simmer (mixture foams, so check and stir occasionally to keep it from boiling over) until farro is tender to bite and no longer tastes starchy, about 25 minutes. Stir in parsley, cover, remove from heat, and let stand 10 minutes.
Step 4
4
Meanwhile, peel and core apple; cut into about 1/4-inch dice and mix with lemon juice. Stir into farro, season to taste with salt and pepper, and pour into a bowl.
Nutrition Facts
Servings Makes about 6 cups; 4 to 6 side-dish servings
---
Amount Per Serving

Calories 181

Calories from Fat 19

% Daily Value *

Total Fat 3.9g

6

%

Saturated Fat 1.3g

7

%

Cholesterol 7.1mg

3

%

Sodium 150mg

7

%

Total Carbohydrate 27g

9

%

Dietary Fiber 2.7g

11

%

Protein 9.4g

19

%
---
* Percent Daily Values are based on a 2,000 calorie diet. Your daily value may be higher or lower depending on your calorie needs.