Print Options:
Indian Potatoes with Black and Yellow Mustard Seeds


Yields
Serves 6


Total Time
40 mins
Wonderful served with spiced lamb chops, yogurt, and tomato chutney. Don't buy potatoes from a refrigerated bin; the cold converts potato starches to sugars, and the sweetness will mask the mustard flavor.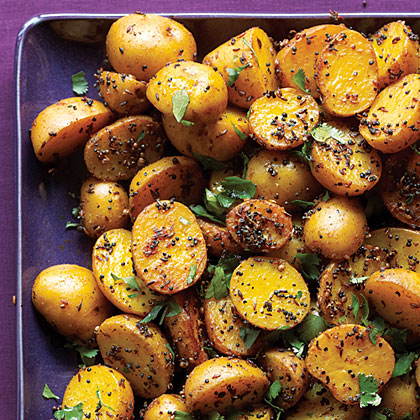 Photo: Annabelle Breakey; Styling: Karen Shinto
4 tablespoons canola or other vegetable oil, divided
2 teaspoons black or brown mustard seeds
2 teaspoons yellow mustard seeds
2 pounds small Yukon Gold potatoes, rinsed but not peeled, halved
2 teaspoons coarsely ground coriander seeds
1/2 teaspoon ground cumin
1/4 cup roughly chopped cilantro
Step 1
1
Heat 2 tbsp. oil and mustard seeds in a large nonstick frying pan over medium-high heat, covered, just until seeds start to pop. Stir in cumin seeds and turmeric; then stir in potatoes, 1 tsp. salt, and pepper.
Step 2
2
Reduce heat to medium low and add 1 tbsp. water. Cook, covered, until potatoes are tender, 20 to 25 minutes.
Step 3
Step 4
4
Note: Nutritional analysis is per serving.
Nutrition Facts
Servings 0
---
Amount Per Serving

Calories 223

Calories from Fat 41

% Daily Value *

Total Fat 10g

16

%

Saturated Fat 0.7g

4

%

Cholesterol 0.0mg

0

%

Sodium 399mg

17

%

Total Carbohydrate 28g

10

%

Dietary Fiber 2.6g

11

%

Protein 4.3g

9

%
---
* Percent Daily Values are based on a 2,000 calorie diet. Your daily value may be higher or lower depending on your calorie needs.