Print Options:
Icebox Salad


Yields
Makes 12 servings

The top layers of chopped vegetables keep the dressing from soaking and wilting the bottom layer of lettuce. Believe it or not, this salad improves after a few hours in the refrigerator. The dressing works its way into the peas, cucumbers, and radishes, the flavors meld, and the vegetables become sweeter. Prep Time: 45 minutes, plus at least 2 hours to chill. Notes: To prepare fresh peas, bring a large saucepan of water to a boil. Add peas and 1 tsp. salt. Boil for 1 minute, drain, and plunge peas into ice water to stop cooking. Drain peas and proceed with step 5.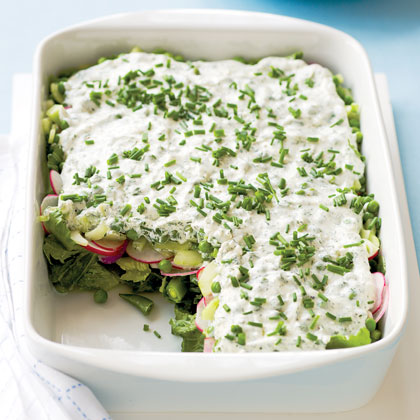 Photo: Leo Gong; Styling: Karen Shinto
2 cups plain low-fat yogurt
1 small head romaine lettuce
1 bunch radishes (about 12)
1 package (10 oz.) frozen peas or 2 cups shelled fresh peas (see Notes)
1/4 teaspoon freshly ground black pepper
2 tablespoons minced fresh dill
4 large leaves fresh mint, minced
1/2 cup finely chopped chives (about 1 bunch)
Step 1
1
Line a fine-mesh strainer with 2 layers of cheesecloth and put strainer over a bowl. Put yogurt in strainer, cover with plastic wrap, and chill 30 minutes.
Step 2
2
Tear romaine into bite-size pieces, rinse, and dry thoroughly between layers of paper towels. Arrange lettuce evenly in a 9- by 13-in. baking pan or other 2-qt. dish.
Step 3
3
Chop sugar snap peas and arrange evenly on top of lettuce. Wash, trim, and thinly slice radishes. Arrange them on top of sugar snap peas.
Step 4
4
Peel cucumber, halve lengthwise, and, using a spoon, scoop out and discard pulpy flesh and small seeds in the center. Cut each cucumber half lengthwise again and chop. Arrange cucumber on top of radishes. Trim green onions, thinly slice white and light green parts, and sprinkle evenly on top of cucumber.
Step 5
5
If using frozen peas, put in a colander or strainer and run under hot water for 1 to 2 minutes to thaw. If using fresh peas, follow cooking instructions in Notes. Dry peas thoroughly on paper towels and sprinkle evenly over green onions.
Step 6
6
Transfer yogurt to a bowl (discard liquid beneath strainer). Stir in oil, salt, and pepper, then stir in dill and mint. Spread yogurt mixture evenly over salad and sprinkle with chives. Cover with plastic wrap and chill for at least 2 hours and up to overnight. Serve cold, cut into 12 pieces.
Step 7
7
Note: Nutritional analysis is per serving.
Nutrition Facts
Servings Makes 12 servings
---
Amount Per Serving

Calories 95

Calories from Fat 39

% Daily Value *

Total Fat 4.2g

7

%

Saturated Fat 0.8g

4

%

Cholesterol 23mg

8

%

Sodium 205mg

9

%

Total Carbohydrate 10g

4

%

Dietary Fiber 2.5g

10

%

Protein 4.7g

10

%
---
* Percent Daily Values are based on a 2,000 calorie diet. Your daily value may be higher or lower depending on your calorie needs.