Print Options:
Grilled Potato Latkes


Yields
15 Servings


Total Time
1 hr 15 mins
In celebration of Hanukkah, Sunset has run many a recipe for fried potato latkes—everything from "potato pancakes" paired with crisp green apple and fresh goat cheese to a giant "pizza latke" involving sourdough bread crumbs. Santa Barbara reader David Teton-Landis gives them a modern, Western twist by grilling them at his Hanukkah party every year. The genius of this method is that it doesn't smell up the house, and the cooking becomes part of the night's entertainment. Teton-Landis uses a batter recipe from his mother-in-law, Roz Teton, and a giant Alessi Todo grater to create long, thin potato shreds that, he says, produce a refined texture.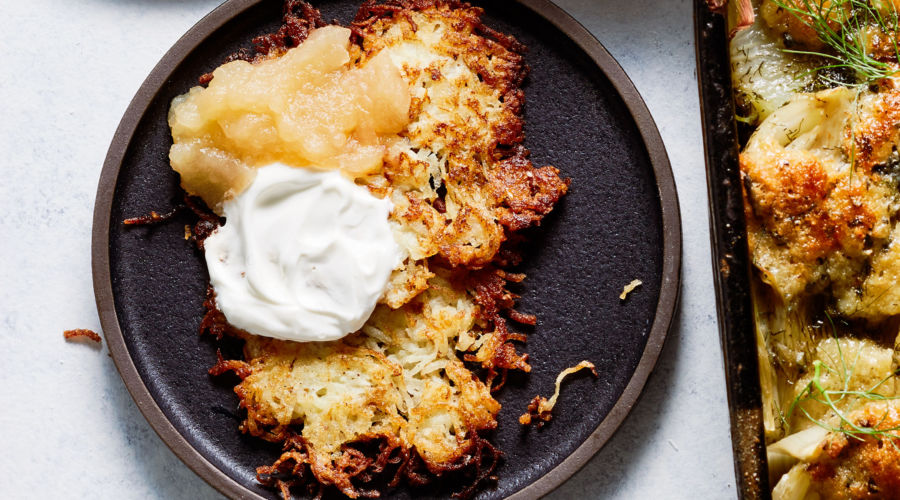 Eva Kolenko
3
lbs
large russet potatoes (about 3)
1
large onion, peeled and quartered
¼
tsp
freshly ground pepper
Grapeseed oil (or other neutral-tasting oil with a high smoke point), for frying
Applesauce (homemade Fresh Applesauce, or store-bought) and sour cream, for serving
1
Scrub potatoes (leave peels on) and remove eyes. Dry with a clean towel.
2
Pulse onion in a food processor until pulverized. Add eggs, matzoh meal, 1 1/2 tsp. salt, and the pepper and whirl to blend. Pour batter into a large bowl.
3
Set a large rimmed cast-iron griddle or 2 large cast-iron skillets on a grill and heat to medium-high (400°). Make sure the grill is level, so that oil will flow evenly across the griddle; you may have to add shims (such as pieces of cardboard) under your grill's feet.
4
Shred potatoes using the fine-shred holes on a sharp box grater, or in a food processor fitted with the fine shredding disc. (If you use a box grater, set it on a rimmed baking pan.) As you shred, transfer piles of potato to a very large bowl of cold water (this removes starch and prevents oxidizing).
5
When the bowl is full, scoop up shredded potatoes by the handful, squeeze out as much water as possible, then add to onion batter and stir to mix.
6
Carefully drizzle enough oil into griddle or skillets to thickly film surface. Drop spoonfuls (about 1 1/2 tbsp. each) of potato mixture onto griddle and spread about 1/4 in. thick. Fry latkes, covered, until crisp-edged and golden brown underneath. Using 2 spatulas, turn over and grill until cooked through, 5 to 8 minutes total. Lift to platter lined with paper towels or baking sheet (if making ahead of time) and press gently with more paper towels to remove excess oil. Sprinkle with salt if you like.
7
Serve hot, with applesauce, sour cream, and small dishes of salt and pepper.
MAKE AHEAD Up to 1 day, chilled airtight. Reheat in a 350° oven, spread in a single layer on unlined baking sheets, until crisp, about 10 minutes.
Nutrition Facts
Serving Size 3
Servings 0
---
Amount Per Serving

Calories 266

Calories from Fat 138

% Daily Value *

Total Fat 16g

25

%

Saturated Fat 1.7g

9

%

Cholesterol 37mg

13

%

Sodium 227mg

10

%

Total Carbohydrate 29g

10

%

Dietary Fiber 2.6g

11

%

Protein 3.6g

8

%
---
* Percent Daily Values are based on a 2,000 calorie diet. Your daily value may be higher or lower depending on your calorie needs.