Print Options:
Grilled Pork Souvlaki with Fresh Pita


Total, plus at least 1 hour to marinate Time
30 mins
Many of us associate souvlaki with roast lamb, but in the back alleys and on the roadsides of Greece, pork and chicken are actually more common. Charles Bililies, founder of Souvla restaurants in San Francisco, gave us this recipe for the quintessential Greek street food. It's very much worth making at home, especially for a party. Most of it can be done ahead, the meat and pita cook in minutes, and it's easy to serve. All you have to do is pile the hot skewers and the warm pita on platters, set out the toppings, and let everyone assemble their own sandwiches (or you can wrap them if you like, as directed below). Just make sure there are lots of napkins–souvlaki are deliciously drippy.
To Drink: Souvla offers wines and lager-style beer, produced and bottled in Greece for the restaurant by Domaine Skouras. The wines include a crisp stainless steel-fermented white (grape varietals: 70 percent Roditis, 30 percent Moscofilero); a rosé, the restaurant's most popular pour (70 percent Agiorgitiko, 30 percent Moscofilero); and a medium-bodied red (100 percent Agiorgitiko). The wines are available at all Souvla locations, as well as San Francisco's Bi-Rite Markets and Arlequin Wine Merchant. A good alternative that's easy to find outside San Francisco: Dry Creek Vineyard 2016 Sauvignon Blanc (Dry Creek Valley; $20).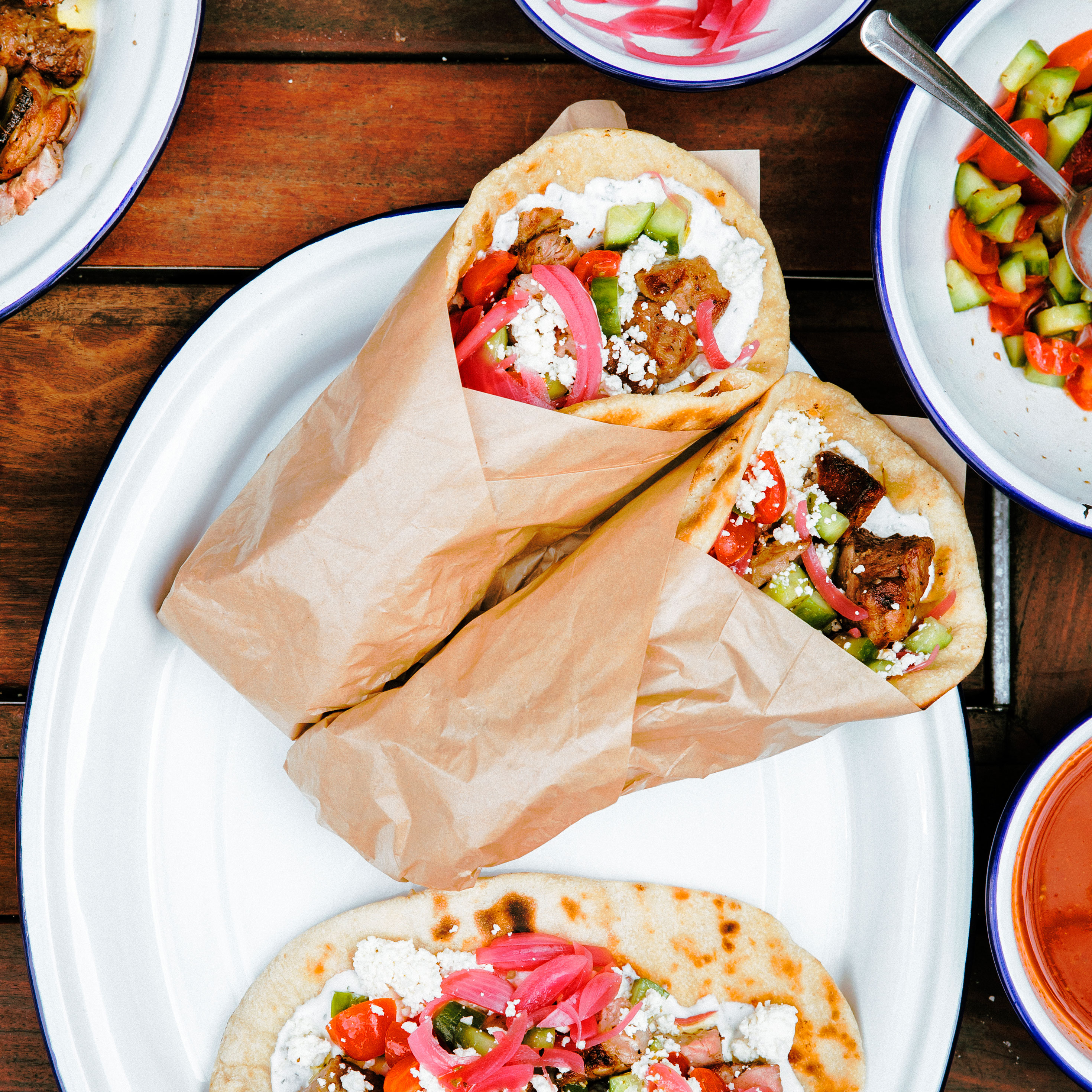 SOUVLAKI
3/4 cup plus 3 tbsp. extra-virgin olive oil
2 1/2 teaspoons kosher salt, divided
2 1/2 teaspoons dried oregano, divided
1 tablespoon minced garlic
3 tablespoons lemon juice, divided
1/4 cup finely chopped flat-leaf parsley
1/2 medium red onion, cut into 1- or 2-in. squares (to match size of pork cubes)
2 pounds pork shoulder, some outer fat (but not all) trimmed if you like, then cut into 1-in. cubes
18 dried bay leaves (optional)
TO SERVE
1 cup finely crumbled feta cheese (about 5 oz.)
Step 1
1
Marinate pork: Whisk together 3/4 cup oil, 2 tsp. each salt and dried oregano, the lemon zest and garlic, 2 tbsp. lemon juice, the onion powder, and parsley in a wide medium bowl. "Lemon, dried oregano, and olive oil--that's the holy trinity of Greek cooking," Bililies says. "Dried oregano is spicier than fresh." Add red onion and pork and turn to coat thoroughly. Marinate at least 1 hour (chill if longer than 1 hour) and up to 24 hours.
Step 2
2
Grill souvlaki: If using a charcoal grill, light a chimney of briquets. When just covered with ash, scatter evenly over firegrate. If using gas, heat grill to medium-high (450°).
Step 3
3
While grill heats, whisk together remaining 3 tbsp. oil, 1 tbsp. lemon juice, and 1/2 tsp. each salt and dried oregano to make a vinaigrette. Set aside. Thread 5 or 6 pork cubes onto each skewer, adding an onion piece between them, and adding a bay leaf, if using, after every 2 pork cubes. "I'll put some of the fattier pieces on the end for an extra-delicious first bite," says Cervone. Discard marinade. Cut 6 pieces of parchment or waxed paper (each about 12 in. square) for wrapping sandwiches and set aside.
Step 4
4
Grill pita, following step 6 of recipe, and cover with a kitchen towel to keep warm.
Step 5
5
Grill skewers (covered on gas), turning to brown all sides, until done the way you like (for medium*, that means about 8 minutes total on charcoal, and 10 minutes if using gas). Move hot souvlaki to a platter and drizzle with lemon-oregano vinaigrette "to brighten it up and round out the flavor," says Cervone. Warm up pita if they've gotten cold, advises Bililies. "They're more flexible when they're warm."
Step 6
6
Assemble sandwiches: Snap bay leaves off skewers, if using. Arrange a sheet of parchment on a work surface so it looks like a diamond. Set a warm pita on top corner of diamond so it extends a little beyond parchment. Spread with 2 to 3 tbsp. yogurt sauce--"You don't need to go super crazy with it," says Bililies--then push off a skewer's worth of pork down its center. Top pork with 1/2 cup cucumber-tomato salad, then 1/4 cup pickled onions. Finish with 2 tbsp. feta.
Step 7
7
Using parchment to help guide, fold sides of filled pita over each other. Wrap parchment around sides of sandwich and fold end of paper under sandwich. Fill and wrap rest of pita the same way.
Step 8
8
Set out hot sauce for drizzling. "I can see all the Greeks having a fit right now," says Bililies. "They don't do spicy. But Americans love it."
9
*Pork in the United States no longer has trichinosis, so it doesn't need to be cooked until well done and dry, as in the past.
10
Make ahead: Pork in marinade, up to 1 day, chilled. For other make-aheads, see individual recipes.
11
Note: Nutritional analysis is per serving (pork only).
Nutrition Facts
---
Amount Per Serving

Calories 516

Calories from Fat 74

% Daily Value *

Total Fat 44g

68

%

Saturated Fat 8g

40

%

Cholesterol 91mg

31

%

Sodium 901mg

38

%

Total Carbohydrate 2.3g

1

%

Dietary Fiber 0.6g

3

%

Protein 29g

58

%
---
* Percent Daily Values are based on a 2,000 calorie diet. Your daily value may be higher or lower depending on your calorie needs.