Print Options:
Nan's Grilled Mozzarella and Olive Sandwich


Yields
Makes 2 sandwiches (serving size: 1 sandwich)


Total Time
15 mins
Stretchy, mild fresh mozzarella is layered with briny olive tapenade to create a rich, savory sandwich. Sue Conley and Peggy Smith, of Cowgirl Creamery in Northern California, created this recipe for Nan Haynes, olive lover, Conley's life partner, and cheesemonger extraordinaire at Cowgirl's shop in the Ferry Building in San Francisco. The recipe is adapted from one in Cowgirl Creamery Cooks (Chronicle Books).
The Cowgirls make their own fresh olive salad with green and black olives, but it's fine to use chunky tapenade instead.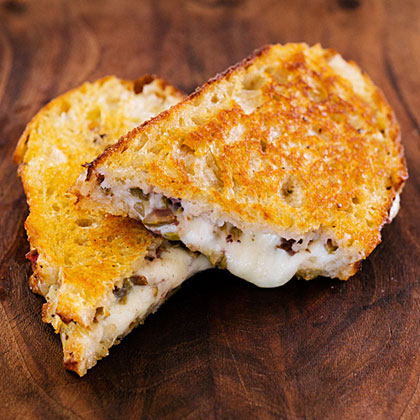 Photo: Thomas J. Story
About 1/3 cup chunky green or black olive tapenade, drained if oily
1/4 teaspoon red chile flakes
1/4 pound fresh mozzarella, thinly sliced
4 slices ciabatta, rosemary bread, or mild sourdough
2 tablespoons unsalted butter, at room temperature
Step 1
1
Mix tapenade with orange zest and chile flakes in a small bowl.
Step 2
2
Layer mozzarella with tapenade on 2 bread slices. Top with remaining slices.
Step 3
3
Butter outsides of each sandwich.
Step 4
4
Heat a large well-seasoned cast-iron skillet or a large, heavy nonstick pan over medium heat for a minute.
Step 5
5
Place sandwiches in skillet and cook until golden-brown underneath, 5 to 7 minutes. Flip and cook the other side until it's just as toasty. Low and slow is the key. Cheese will probably ooze out, but that's okay. It gives the sandwiches a nice crunchy fringe.
Nutrition Facts
Servings 0
---
Amount Per Serving

Calories 879

Calories from Fat 33

% Daily Value *

Total Fat 32g

50

%

Saturated Fat 18g

90

%

Cholesterol 97mg

33

%

Sodium 1471mg

62

%

Total Carbohydrate 114g

38

%

Dietary Fiber 5g

20

%

Protein 31g

62

%
---
* Percent Daily Values are based on a 2,000 calorie diet. Your daily value may be higher or lower depending on your calorie needs.