Print Options:
Grilled Eggplant and Pepper Salad


Yields
Makes 6 servings

While some wines are a hard match for vegetables, Syrah works really well with earthy and herbal veggies like eggplant, zucchini, and bell peppers--especially when they're grilled. French Syrah in particular makes the ginger in this dish pop. Prep and Cook Time: about 30 minutes. Notes: To toast pine nuts, bake in a 325° oven, shaking pan occasionally, just until beginning to brown, about 8 minutes. Grill the vegetables before the flank steak, then finish the salad as the steak cooks. If grilling over charcoal, you may need to add a few more briquets before grilling the steak.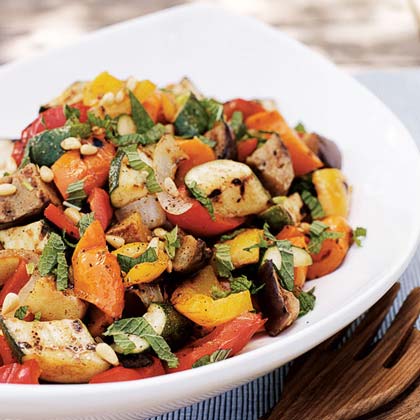 Thayer Allyson Gowdy
2 large bell peppers (red, orange, and/or yellow), rinsed, halved, stemmed, and seeded
2 medium zucchini, rinsed, ends trimmed, and halved lengthwise
1 large eggplant, rinsed, ends trimmed, and thickly sliced crosswise
1 large sweet onion, peeled and thickly sliced
1/2 cup pine nuts, toasted (see Notes)
1/4 cup chopped fresh mint leaves
Salt and freshly ground black pepper
Step 1
1
Lay bell peppers, zucchini, eggplant, and onion on baking sheets. Brush both sides of vegetables with Moroccan marinade (reserve any remaining).
Step 2
2
Lay vegetables on a well-oiled grill over a solid bed of medium-hot coals or medium-high heat on a gas grill (you can hold your hand 1 to 2 in. above grill level only 3 to 4 seconds); close lid on gas grill. Cook vegetables, turning once, until beginning to brown and just tender when pierced, 7 to 8 minutes for eggplant, 8 to 10 for onion and bell peppers, and 12 for zucchini. Transfer to a large cutting board as done.
Step 3
3
Cut vegetables into 1-in. pieces and put in a bowl. Add pine nuts, mint, and any remaining marinade. Mix, adding more vinegar, salt, and pepper to taste.
Step 4
4
Note: Nutritional analysis is per serving.
Nutrition Facts
Servings 0
---
Amount Per Serving

Calories 252

Calories from Fat 68

% Daily Value *

Total Fat 19g

30

%

Saturated Fat 2.6g

13

%

Cholesterol 0.0mg

0

%

Sodium 283mg

12

%

Total Carbohydrate 19g

7

%

Dietary Fiber 4.2g

17

%

Protein 6g

12

%
---
* Percent Daily Values are based on a 2,000 calorie diet. Your daily value may be higher or lower depending on your calorie needs.