Print Options:
Grilled Chicken on Greens with Creamy Harissa Dressing


Yields
Makes 4 dinner salads


Total Time
4 hrs
We've breathed new life into sliced chicken on greens with harissa, a fiery Tunisian chile sauce (or paste) laced with coriander, garlic, cumin, and caraway. Prep and Cook Time: 1 hour, plus at least 3 hours of marinating time. Notes: Chicken breasts vary a lot in size, so note the weight of the package before buying. The heat level of harissa depends on the brand, so start with a little and add more from there. You can buy it and smoked paprika at specialty food stores like Whole Foods Market.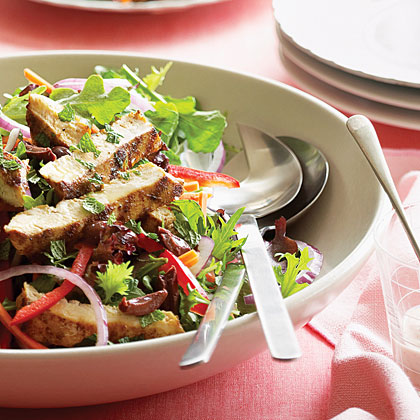 Photo: Annabelle Breakey
1 pound boned, skinned chicken breast halves (about 2 halves; see Notes)
1 teaspoon finely shredded fresh lemon zest
3/4 teaspoon salt, divided
3/4 teaspoon freshly ground black pepper, divided
1/2 teaspoon smoked paprika (pimentón; see Notes)
1/2 teaspoon ground cumin
1/2 medium red onion, peeled, halved crosswise, and thinly sliced into half-moons
1 cup plain low-fat yogurt
About 1 tsp. harissa sauce or paste (see Notes)
1 tablespoon chopped mint, plus more for garnish
2 teaspoons freshly squeezed lemon juice
8 cups loosely packed mixed baby greens
1 cup 2-in.-long carrot matchsticks (1 medium carrot)
1/2 red bell pepper, very thinly sliced lengthwise into strips
1/4 cup quartered, pitted kalamata olives
Step 1
1
Put chicken breast halves between pieces of plastic wrap and pound with a meat mallet or the back of a small, heavy saucepan until 1/4 in. thick. Whisk lemon zest, olive oil, 1/2 tsp. salt, 1/2 tsp. pepper, the smoked paprika, and cumin together in a small bowl. Put chicken breasts in a large, wide bowl and add marinade, rubbing all over chicken to coat. Cover and chill at least 3 hours and up to overnight. Allow chicken to come to room temperature before grilling. Meanwhile, rinse onion and dry it with paper towels.
Step 2
2
Prepare a gas or charcoal grill for medium heat (you can hold your hand 1 to 2 in. above cooking grate only 4 to 5 seconds). Lay chicken on well-oiled grate and cook, turning once, until cooked through, 6 to 8 minutes. Transfer chicken to a plate or cutting board, tent with foil, and let rest 5 minutes.
Step 3
3
Meanwhile, whisk yogurt, harissa, 1 tbsp. mint, remaining 1/4 tsp. salt and 1/4 tsp. pepper, and the lemon juice together in a small bowl. Slice chicken on the diagonal across the grain into 1/4-in.-thick strips.
Step 4
4
In a large bowl, toss together greens, carrot, bell pepper, onion, and olives with 1/2 cup dressing until just coated.
Step 5
5
Divide salad among 4 plates and top with chicken. Drizzle remaining dressing over salads, dividing evenly, and garnish with remaining mint.
Step 6
6
Note: Nutritional analysis is per serving.
Nutrition Facts
Servings Makes 4 dinner salads
---
Amount Per Serving

Calories 274

Calories from Fat 27

% Daily Value *

Total Fat 8.1g

13

%

Saturated Fat 1.7g

9

%

Cholesterol 69mg

23

%

Sodium 739mg

31

%

Total Carbohydrate 17g

6

%

Dietary Fiber 3.9g

16

%

Protein 32g

64

%
---
* Percent Daily Values are based on a 2,000 calorie diet. Your daily value may be higher or lower depending on your calorie needs.