Print Options:
Grilled Basil Chicken Sandwiches


Yields
Serves 4


Total Time
30 mins
Coated with a simple basil mayo, the chicken in this open-face sandwich would also be good chopped and tossed into a salad or served alongside rice and fresh vegetables.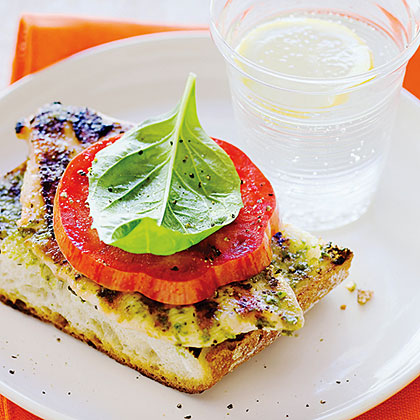 Photo: Leo Gong; Styling: Karen Shinto
Leaves from 1 large bunch basil
1 teaspoon balsamic vinegar
2 boned, skinned chicken breast halves, halved
4 wide slices ciabatta bread
1 heirloom tomato, cut into 4 slices
Step 1
Step 2
2
Sandwich chicken breasts between 2 pieces of plastic wrap and pound with a mallet until 1/4 in. thick.
Step 3
3
Grill chicken, basting each side with some of mayo mixture and turning as needed, until cooked through and well browned, about 8 minutes.
Step 4
4
Brush one side of bread with a little mayo mixture; grill bread on both sides.
Step 5
5
Lay chicken on mayo side of bread. Top each sandwich with a tomato slice and a basil leaf and serve the remaining mayo on the side.
Step 6
6
Note: Nutritional analysis is per sandwich without extra mayo.
Nutrition Facts
Servings 0
---
Amount Per Serving

Calories 490

Calories from Fat 22

% Daily Value *

Total Fat 12g

19

%

Saturated Fat 2.8g

14

%

Cholesterol 73mg

25

%

Sodium 897mg

38

%

Total Carbohydrate 63g

21

%

Dietary Fiber 2.7g

11

%

Protein 34g

68

%
---
* Percent Daily Values are based on a 2,000 calorie diet. Your daily value may be higher or lower depending on your calorie needs.