Print Options:
Greek Tuna Salad


Yields
Serves 6


Total Time
25 mins
It's surprising how light and fresh this vinaigrette-dressed salad tastes, given that most of the ingredients come from the pantry. Here it's served as an entrée, but it also works as an appetizer or sandwich filling.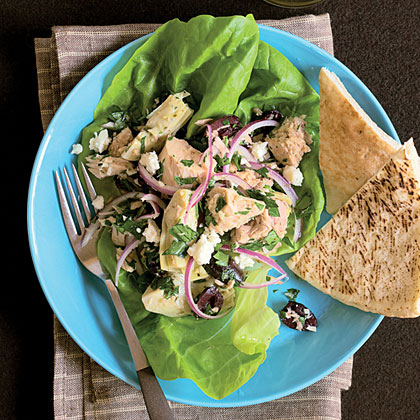 Photo: Jennifer Martine; Styling: Karen Shinto
3 cans (6 oz. each) unsalted, water-packed tuna, drained
1 jar (6.5 oz.) marinated artichoke hearts, drained and quartered
1/2 cup pitted, halved kalamata olives
1/3 cup crumbled feta cheese
2 tablespoons minced garlic
2 tablespoons sherry vinegar
1/4 cup extra-virgin olive oil
1/2 teaspoon freshly ground black pepper
1/2 cup chopped flat-leaf parsley
Step 1
1
Combine all ingredients except lettuce in a large bowl. Arrange a few lettuce leaves on each of 6 plates. Spoon tuna mixture on top of lettuce and serve with pita chips or warmed pita halves.
Step 2
2
Note: Nutritional analysis is per serving.
Nutrition Facts
Servings Serves 6
---
Amount Per Serving

Calories 251

Calories from Fat 55

% Daily Value *

Total Fat 16g

25

%

Saturated Fat 2.7g

14

%

Cholesterol 30mg

10

%

Sodium 626mg

27

%

Total Carbohydrate 6.7g

3

%

Dietary Fiber 2.2g

9

%

Protein 22g

44

%
---
* Percent Daily Values are based on a 2,000 calorie diet. Your daily value may be higher or lower depending on your calorie needs.