Print Options:
Glazed Chili Tofu with Ramen


Yields
Serves 4


Total Time
30 mins
Fresh Asian wheat noodles come in lots of styles, shapes, and packages. Most will work fine for this recipe, but if you use noodles that are heavily dusted in flour, you might want to give them a quick dunk in hot water before adding them to the pot so the flour doesn't thicken the broth.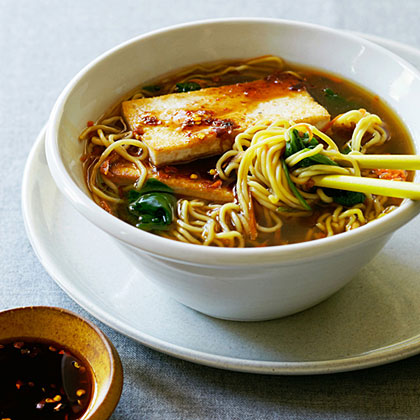 Photo: Yunhee Kim; Styling: Kevin Crafts
1 qt. reduced-sodium chicken broth
1 tablespoon minced fresh ginger
1 tablespoon minced fresh garlic
4 tablespoons reduced-sodium soy sauce, divided
About 1 tbsp. Thai or other Asian sweet chili sauce
1 pkg. (14 oz.) extra-firm tofu, drained and patted dry
1 tablespoon vegetable oil
12 ounces fresh ramen noodles or fresh Chinese wheat noodles*
Step 1
1
Combine broth, 2 cups water, the ginger, garlic, and 3 tbsp. soy sauce in a medium saucepan. Bring to a simmer over medium heat; cook 10 minutes.
Step 2
2
Mix the remaining 1 tbsp. soy sauce and 1 tbsp. chili sauce in a small bowl; set mixture aside.
Step 3
3
Cut tofu crosswise into 8 slabs, each 1/2 in. thick. Heat oil in a large nonstick frying pan over medium heat. Cook tofu, turning once, until lightly browned, about 8 minutes. Remove from heat; pour soy-chili mixture over tofu and turn gently to coat.
Step 4
4
Add noodles and carrots to broth and cook, stirring occasionally, until just tender, 3 to 4 minutes. Stir in spinach and cook just until wilted. Ladle noodles, broth, and vegetables into bowls and top each with 2 slabs of tofu. Drizzle tofu with more chili sauce if you like.
Step 5
5
*Available refrigerated at well-stocked grocery stores and Asian markets.
Nutrition Facts
Servings Serves 4
---
Amount Per Serving

Calories 423

Calories from Fat 24

% Daily Value *

Total Fat 11g

17

%

Saturated Fat 1.3g

7

%

Cholesterol 62mg

21

%

Sodium 1277mg

54

%

Total Carbohydrate 57g

19

%

Dietary Fiber 2.4g

10

%

Protein 24g

48

%
---
* Percent Daily Values are based on a 2,000 calorie diet. Your daily value may be higher or lower depending on your calorie needs.