Print Options:
Garlicky Shrimp-Cilantro Tacos (Tacos de Camarones al Mojo de Ajo)


Yields
Makes 16 tacos; 8 servings


Total Time
35 mins
Sweet onions and shrimp meet the gentle heat of garlic and chiles. Prep and Cook Time: about 35 minutes. Notes: Vegetables can be cooked up to 2 hours ahead, then reheated. Serrano chiles can be very hot, so add to taste. To heat tortillas, wrap in a kitchen towel and microwave until warm and soft, about 60 seconds.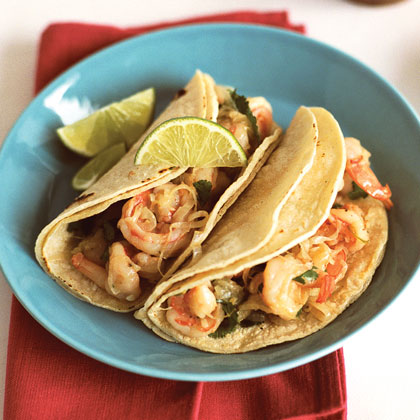 Photo: James Carrier; Styling: Karen Shinto
1 pound white onions, peeled and thinly sliced
2 or 3 serrano chiles, stemmed, seeded, and thinly sliced (see Notes)
3 tablespoons finely chopped garlic
2 1/2 pounds shrimp (21 to 25 per lb.), peeled, deveined, and halved lengthwise
1 cup coarsely chopped fresh cilantro
32 corn tortillas, warmed (5 to 6 in.; see Notes)
Step 1
1
Heat oil in a large frying pan over high heat. Add onions and chiles and cook, stirring frequently, until onions are lightly browned, about 10 minutes. Pour vegetables into a bowl and set aside.
Step 2
2
Melt butter in same frying pan over medium-high heat, add garlic, and stir until sizzling, about 1 minute. Add half of shrimp to pan. Stir often until shrimp are bright pink and no longer wet-looking in thickest part (cut to test), about 5 minutes; transfer shrimp to bowl with reserved vegetables. Add remaining shrimp to pan and cook as above, then return cooked shrimp and vegetables to pan and stir everything together until hot, 2 to 3 minutes. Add cilantro and salt to taste.
Step 3
3
Serve shrimp in a large bowl with tortillas (use 2 tortillas, stacked, per taco), accompanied by lime wedges to squeeze over top.
Step 4
4
Note: Nutritional analysis is per taco.
Nutrition Facts
Servings Makes 16 tacos; 8 servings
---
Amount Per Serving

Calories 243

Calories from Fat 32

% Daily Value *

Total Fat 8.5g

14

%

Saturated Fat 2.5g

13

%

Cholesterol 95mg

32

%

Sodium 197mg

9

%

Total Carbohydrate 28g

10

%

Dietary Fiber 3.1g

13

%

Protein 15g

30

%
---
* Percent Daily Values are based on a 2,000 calorie diet. Your daily value may be higher or lower depending on your calorie needs.