Print Options:
Fried Squash Blossoms with Corn and Mozzarella


Yields
Serves 4 to 6 as an appetizer (serving size: 1 blossom)


Total Time
1 hr
The squash blossoms Zuni Cafe chef Judy Rodgers made for the first Tasting were a revelation to diners. This lighter version is still satisfyingly stuffed with cheese and corn, but has the barest sheath of batter.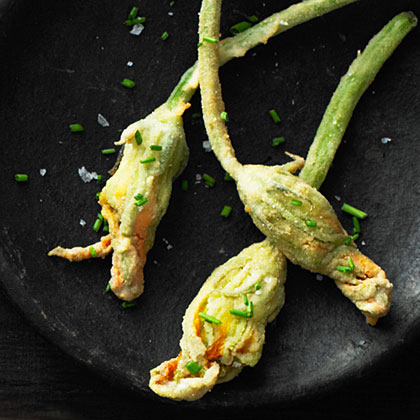 Photo: Iain Bagwell; Styling: Emma Star Jensen
1/4 pound fresh mozzarella, cut into 1/4-in. dice
Kernels from 1 ear fresh corn
1 tablespoon minced red onion
About 1/4 teaspoon sea salt
About 1/4 teaspoon pepper
18 zucchini or butternut squash blossoms, with stems if you like
Snipped chives or small fresh basil leaves (or torn if large)
Step 1
1
Mix cheese, corn, onion, garlic, and 1/4 teaspoon each salt and pepper. Gently stuff each blossom with about 1 1/2 teaspoons filling and twist ends of petals closed.
Step 2
2
Pour oil into a medium, heavy pot or saucepan until 3 in. deep. Heat over medium-high heat until a deep-fry thermometer registers 360° to 375°.
Step 3
3
Put buttermilk and rice flour in separate containers (loaf pans work well, since the high sides prevent spilling).
Step 4
4
One at a time, dip each stuffed blossom into buttermilk and let excess drip off. Dip in flour, coating lightly but evenly.
Step 5
5
Shake off excess flour and fry blossoms in small batches until golden brown, 45 seconds to 1 minute. Gently submerge blossoms with a slotted spoon to cook tops. Drain on paper towels. Season with salt, sprinkle with chives or basil, and serve with lemon wedges if you like.
Nutrition Facts
Servings 0
---
Amount Per Serving

Calories 56

Calories from Fat 52

% Daily Value *

Total Fat 3.2g

5

%

Saturated Fat 1.1g

6

%

Cholesterol 5.4mg

2

%

Sodium 33mg

2

%

Total Carbohydrate 5g

2

%

Dietary Fiber 0.2g

1

%

Protein 1.7g

4

%
---
* Percent Daily Values are based on a 2,000 calorie diet. Your daily value may be higher or lower depending on your calorie needs.