Print Options:
Fried Mormon Funeral Potatoes


Yields
Makes 20


Total Time
45 mins
These little nuggets from The Garage restaurant, in Salt Lake City, are based on Mormon funeral potatoes, a crunchy, cheesy, creamy casserole dish that is served at just about any big function in that town. Rolled into balls and deep-fried, they are totally over the top.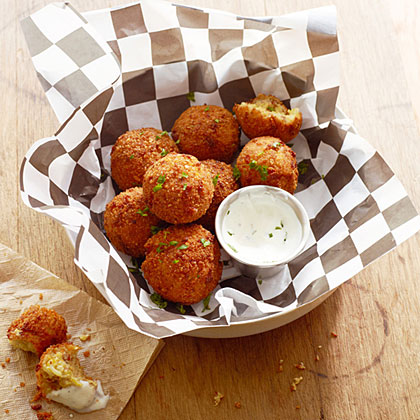 Photo: Annabelle Breakey; Styling: Kevin Crafts
8 ounces bacon, chopped, cooked, and drained
1 or 2 jalapeño chiles, minced
1 1/2 cups defrosted frozen shredded hash browns
1 cup coarsely shredded cheddar cheese
1 cup finely ground cornflakes, divided
Chopped parsley (optional)
Ranch dressing for dipping
Step 1
1
Whirl bacon, cream cheese, onion, jalapeños, green onion, and sour cream in a food processor, about 1 minute. Place in a large mixing bowl.
Step 2
2
Stir hash browns, cheddar, flour, cornstarch, salt, eggs, and 3 tbsp. ground cornflakes into bacon mixture.
Step 3
3
Line a baking sheet with parchment paper. Scoop up a scant 1/4 cup of potato mixture and roll into a ball. Drop ball into a bowl filled with 3/4 cup cornflakes and roll to coat (mixture will firm up once coated). Place on sheet and repeat with remaining mixture. Chill until ready to cook.
Step 4
4
Heat 2 in. oil in a medium pot until it registers 350° on a deep-fry thermometer. Fry potato balls, a few at a time, until golden, 5 minutes per batch. Drain on paper towels. Sprinkle with parsley and serve with ranch dressing.
Step 5
5
Note: Nutritional analysis is per potato ball without dip.
Nutrition Facts
Servings 0
---
Amount Per Serving

Calories 127

Calories from Fat 64

% Daily Value *

Total Fat 9.1g

14

%

Saturated Fat 3.4g

17

%

Cholesterol 39mg

13

%

Sodium 351mg

15

%

Total Carbohydrate 7.6g

3

%

Dietary Fiber 0.3g

2

%

Protein 4.4g

9

%
---
* Percent Daily Values are based on a 2,000 calorie diet. Your daily value may be higher or lower depending on your calorie needs.