Print Options:
Fennel-Pepper Slaw


Yields
Makes 6 servings

Fennel, which tastes faintly of licorice, makes a great base for a Zin-friendly salad. Prep Time: about 25 minutes. Notes: Paper-thin strips of fennel are easy to cut on a mandoline. We like this slaw after it has been chilled in its dressing overnight, but it's also good after just an hour.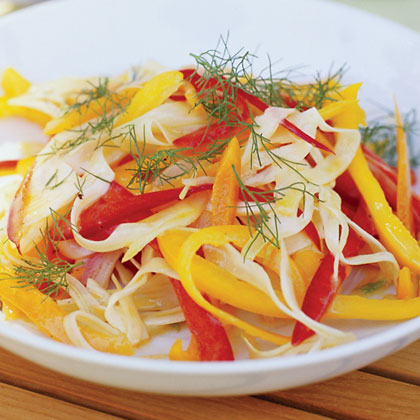 Photo: Lisa Romerein; Styling: Karen Shinto
3 tablespoons freshly squeezed lemon juice
1 tablespoon Dijon mustard
Salt and freshly ground black pepper
2 small heads fennel (about 1 3/4 lbs. total)
3 red, yellow, and/or orange bell peppers, stemmed, seeded, and slivered lengthwise
Step 1
1
In a small bowl, whisk lemon juice, olive oil, mustard, and honey to blend. Add salt and pepper to taste.
Step 2
2
Trim stalks from fennel; chop enough feathery green fronds to make 2 tbsp. and reserve. Cut heads in half lengthwise, then shave into paper-thin strips (see Notes) or cut into thin slivers.
Step 3
3
In a bowl, combine fennel and bell peppers. Drizzle with dressing and mix gently to coat; cover and chill at least 1 hour and up to 1 day (see Notes). Just before serving, sprinkle with reserved fennel fronds.
Step 4
4
Note: Nutritional analysis is per serving.
Nutrition Facts
Servings 0
---
Amount Per Serving

Calories 114

Calories from Fat 55

% Daily Value *

Total Fat 7g

11

%

Saturated Fat 0.9g

5

%

Cholesterol 0.0mg

0

%

Sodium 111mg

5

%

Total Carbohydrate 13g

5

%

Dietary Fiber 3.6g

15

%

Protein 1.5g

3

%
---
* Percent Daily Values are based on a 2,000 calorie diet. Your daily value may be higher or lower depending on your calorie needs.