Print Options:
Escarole Salad with Chopped Egg and Anchovy Vinaigrette


Yields
Makes 10 to 12 servings

Escarole--a yellowish green variety of chicory--is ideal for a buffet because the broad, hearty leaves don't wilt when dressed (the salad is even crunchy the next day). Prep Time: 30 minutes.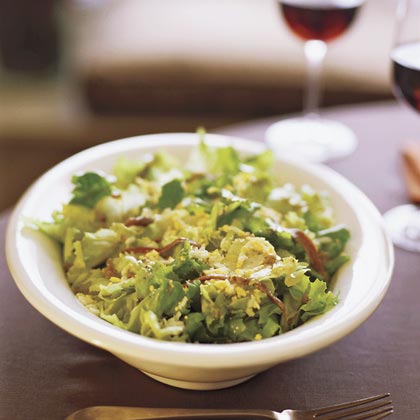 James Carrier
3 to 4 bunches escarole, tough green outer leaves discarded (1/2 to 1/3 of each head, to be saved for another use such as soup)
2 cloves garlic, finely chopped
1/4 teaspoon freshly ground black pepper
6 chopped anchovy fillets plus 2 whole fillets
2 tablespoons lemon juice
1/3 to 1/2 cup extra-virgin olive oil
3 hard-cooked eggs, cooled, peeled, and grated on the large holes of a box grater
Step 1
1
Soak escarole in cold water and dry by rolling in a kitchen towel. Tear each leaf into 2 or 3 large pieces and chill while you make the dressing.
Step 2
2
In a mortar or a food processor, pound or whirl garlic, salt, and pepper until garlic is a paste. Add chopped anchovies and pound or process to a paste. Add lemon juice and olive oil and whisk or process to combine.
Step 3
3
Pour dressing over escarole leaves and toss thoroughly to coat. Arrange on a large serving platter and scatter with grated egg. Slice whole anchovies lengthwise into thin strips and arrange on top.
Step 4
4
Note: Nutritional analysis is per serving.
Nutrition Facts
Servings Makes 10 to 12 servings
---
Amount Per Serving

Calories 120

Calories from Fat 75

% Daily Value *

Total Fat 10g

16

%

Saturated Fat 1.8g

9

%

Cholesterol 60mg

20

%

Sodium 253mg

11

%

Total Carbohydrate 4.1g

2

%

Dietary Fiber 2.4g

10

%

Protein 3.9g

8

%
---
* Percent Daily Values are based on a 2,000 calorie diet. Your daily value may be higher or lower depending on your calorie needs.