Print Options:
Elsa's Chocolate-Dipped Macaroons


Prep and Bake Time
1 hr 30 mins

Chill Time
1 hr

Total Time
2 hrs 30 mins
These macaroons are the most delicious we've ever tasted in the Sunset Test Kitchen. The recipe comes from Karen Dannenbaum of Topanga, California, who inherited it from her mother, Elsa, an outstanding cook. Of all the recipes Elsa left behind in her handwritten notebooks, "this was one of her best, and a family favorite," Dannenbaum says. She also included an option for double-dipping the cookies in melted white chocolate over the dark. We loved them as-is, but if you'd like to double-dip, feel free!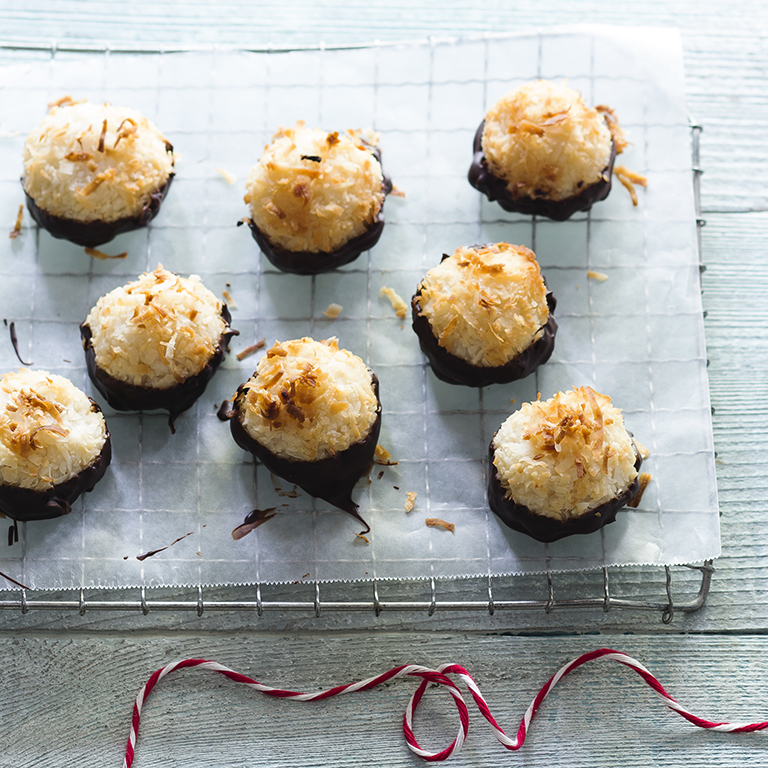 Photo: Erin Kunkel; Styling: Kelly Allen
12 ounces sweetened flaked coconut, divided
1/4 cup plus 1 tbsp. cream of coconut*
1 1/2 ounces (2 1/2 tbsp.) neufchâtel cheese
2 tablespoons coconut flour*
1/2 teaspoon vanilla extract
6 ounces semisweet chocolate
Step 1
1
Preheat oven to 325° with racks in upper and lower thirds. Line 2 baking sheets with parchment paper.
Step 2
2
Put 7 oz. (2 2/3 cups) flaked coconut and the powdered sugar in a food processor and whirl 30 seconds. Add all remaining ingredients except chocolate. Whirl until coconut is well chopped, scraping down inside of processor once.
Step 3
3
Pour remaining 5 oz. (1 3/4 cups) flaked coconut into a medium bowl. Drop a generous tablespoonful of dough into bowl and gently toss to coat with coconut. Roll into a ball between your palms, then roll in coconut again and set on baking sheet. Repeat with remaining dough and flaked coconut, setting cookies about 1/2 in. apart (they don't spread much).
Step 4
4
Bake until golden around the top and edges, switching position of pans halfway through, 25 to 30 minutes total. Slide parchment with cookies onto a cooling rack to cool completely.
Step 5
5
Break or chop chocolate into small chunks, put in a small microwave-safe bowl, and heat in 20-second bursts until almost melted. Stir to melt completely. If very liquidy, let cool until as thick as sour cream.
Step 6
6
Line a baking sheet with waxed paper or parchment. Hold one cookie at a time by the top and dip the bottom into chocolate about 1/2 in. up the side of cookie. Set on baking sheet and chill 1 hour to set chocolate.
Step 7
7
*Find cream of coconut and coconut flour at well-stocked grocery stores.
Step 8
8
Make ahead: Up to 2 weeks, chilled airtight.
Nutrition Facts
---
Amount Per Serving

Calories 148

Calories from Fat 49

% Daily Value *

Total Fat 8g

13

%

Saturated Fat 6.7g

34

%

Cholesterol 1.9mg

1

%

Sodium 61mg

3

%

Total Carbohydrate 32g

11

%

Dietary Fiber 1.7g

7

%

Protein 1.8g

4

%
---
* Percent Daily Values are based on a 2,000 calorie diet. Your daily value may be higher or lower depending on your calorie needs.