Print Options:
Egg and Anchovy Crostini


Yields
Serves 8


Total Time
35 mins
Chris Cosentino—chef at San Francisco's Incanto restaurant and author of Beginnings; My Way to Start a Meal (Olive Press; $25)—likes his eggs with soft yolks, and here he nestles them into lemon-scented toasts. Instead of using ordinary canned anchovies, he uses marinated white anchovies, which have a fresher, cleaner taste.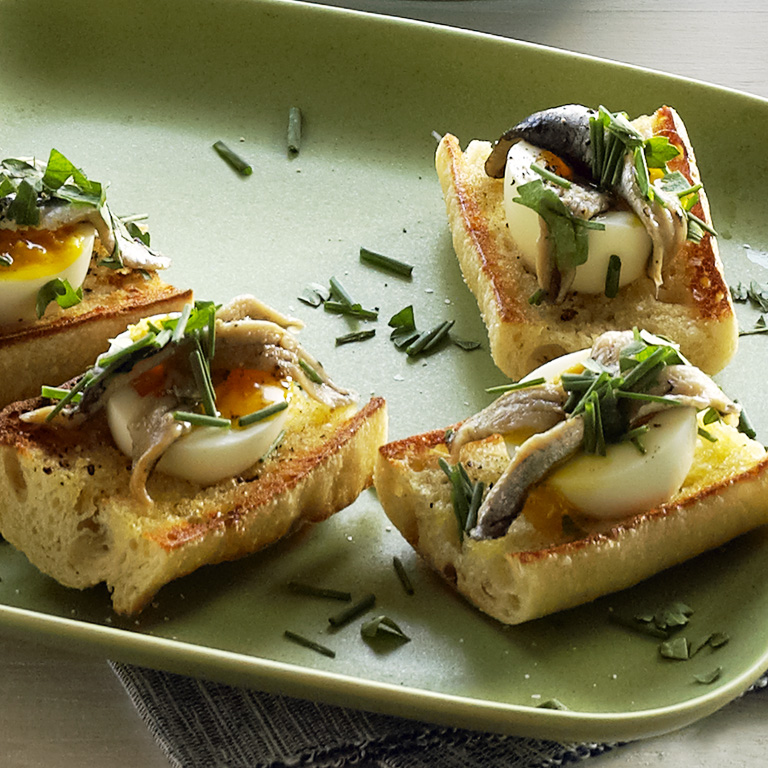 12-in. length of baguette (2 1/2 to 3 in. wide), split lengthwise
2 tablespoons extra-virgin olive oil
16 marinated white anchovy fillets*
2 tablespoons roughly chopped flat-leaf parsley
2 tablespoons chive pieces (about 1/2 in. long)
Step 1
1
Fill a bowl with ice water and salt. Bring a saucepan of water to a boil and lower in eggs with a spoon; cook 6 1/2 minutes for a softly set egg. Transfer eggs to salted ice water (salt helps the shells come off more easily) and cool completely, about 5 minutes. Peel eggs and set aside.
Step 2
2
Preheat broiler with a rack set 4 in. from heat. Brush baguette with oil and sprinkle with salt and pepper to taste. Toast bread, turning once, until warm and golden brown, about 5 minutes. Rub cut side of bread with whole lemon to extract oils from peel.
Step 3
3
Use a 1 1/2-in. round cutter to cut 4 evenly spaced holes in each baguette half, or use a knife and scoop out with a spoon. Slice bread crosswise between holes into 8 pieces.
Step 4
4
Cut eggs in half crosswise and set an egg into each hole. Sprinkle eggs with salt and pepper. Lay 2 anchovies over each and sprinkle with parsley and chives.
Step 5
5
*Find in well-stocked grocery stores or Italian markets, or substitute good-quality regular canned or jarred anchovies that you've tossed in a little sherry vinaigrette.
Nutrition Facts
Servings 0
---
Amount Per Serving

Calories 179

Calories from Fat 35

% Daily Value *

Total Fat 7.1g

11

%

Saturated Fat 1.6g

8

%

Cholesterol 125mg

42

%

Sodium 546mg

23

%

Total Carbohydrate 20g

7

%

Dietary Fiber 1.1g

5

%

Protein 9.9g

20

%
---
* Percent Daily Values are based on a 2,000 calorie diet. Your daily value may be higher or lower depending on your calorie needs.