Print Options:
Double Cucumber Raita (Spiced Yogurt)


Yields
Serves 6 (makes 3/4 cup) (serving size: 2 tbsp.)


Total Time
15 mins
Troy MacLarty, of Bollywood Theater in Portland, Oregon, serves this creamy raita with fried okra, but it's a delicious accompaniment to nearly any Indian meal. To approximate the milder flavor of yogurt in India, he drains yogurt overnight and blends in a bit of milk, but for a quick version, use 1/2 cup Greek yogurt, which is naturally thicker, and don't drain it.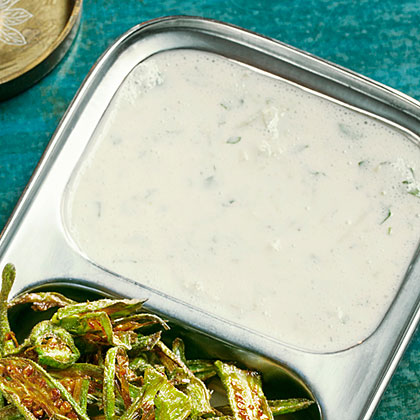 2/3 cup plain whole-milk yogurt if draining overnight or 1/2 cup plain whole-milk Greek yogurt if not draining
5 ounces English cucumber (about 1/3 of a cucumber)
About 1/2 tsp. kosher salt
2 tablespoons finely chopped cilantro
2 to 4 tbsp. whole milk or water
Step 1
1
If draining yogurt, line a strainer with cheesecloth, set over a bowl, and add yogurt. Cover and chill overnight to drain.
Step 2
2
Cut cucumber in half lengthwise and seed. Peel one half, cut into chunks, and purée in a blender. Finely shred remaining cucumber with a box grater or mandoline and squeeze dry with your hands.
Step 3
3
In a bowl, stir together yogurt, all of cucumber, 1/2 tsp. salt, the cilantro, and 1 tsp. lime juice. Add milk or water to thin the texture so it's like loose yogurt. Season to taste with more salt or lime juice if you like.
Step 4
4
Make ahead: Up to 2 days, chilled.
Nutrition Facts
Servings Serves 6 (makes 3/4 cup) (serving size: 2 tbsp.)
---
Amount Per Serving

Calories 25

Calories from Fat 40

% Daily Value *

Total Fat 1.1g

2

%

Saturated Fat 0.7g

4

%

Cholesterol 4.3mg

2

%

Sodium 143mg

6

%

Total Carbohydrate 2.7g

1

%

Dietary Fiber 0.0g

0

%

Protein 1.2g

3

%
---
* Percent Daily Values are based on a 2,000 calorie diet. Your daily value may be higher or lower depending on your calorie needs.