Print Options:
Donna's Molasses Cookies


Yields
Makes about 45 cookies (serving size: 1 cookie)


Prep and Bake Time
1 hr

Chill Time
2 hrs

Total Time
3 hrs
"This recipe is from my mother-in-law's box of typed 3- by 5-in. cards, handed down from her mother," says Beryl Schwartz of Ojai, California. "Nothing reminds us of the holidays like the aroma of molasses wafting through the house!" Schwartz adds cloves and ginger for extra spice and rolls the cookie balls in turbinado sugar for crunch.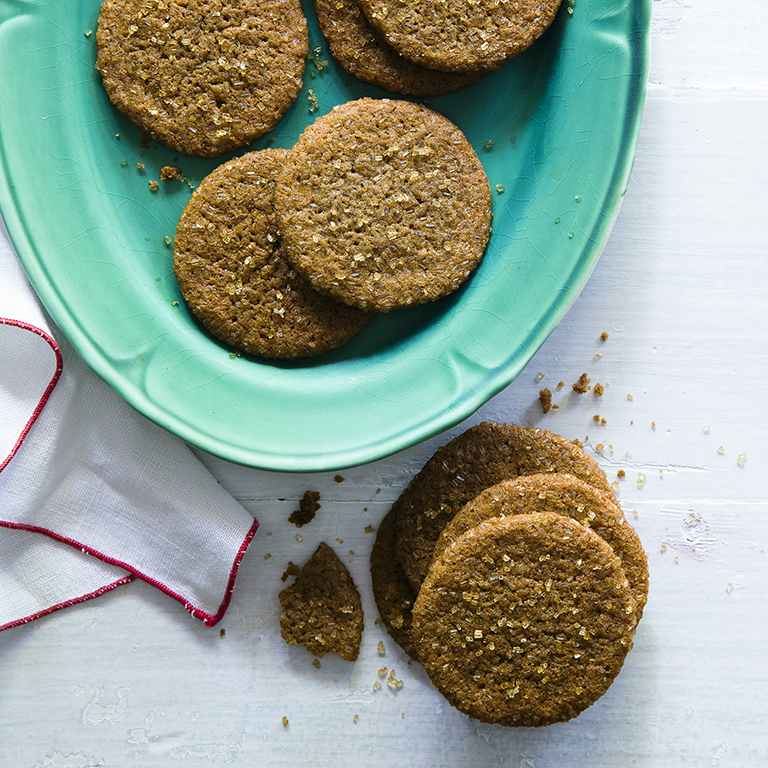 Photo: Erin Kunkel; Styling: Kelly Allen
3/4 cup vegetable shortening*
1 1/2 teaspoons baking soda
2 teaspoons ground ginger
1/3 cup molasses (not blackstrap)
2 teaspoons finely shredded fresh ginger
About 3/4 cup turbinado sugar for rolling
Step 1
1
In a medium bowl with a mixer on medium-high speed, beat shortening with granulated sugar until fluffy. Scrape down bowl and beat in egg.
Step 2
2
In a small bowl, dissolve baking soda in 2 tsp. warm water. Sift flour and ground spices into a medium bowl.
Step 3
3
Beat baking soda mixture into shortening, then add flour mixture in alternating batches with molasses and fresh ginger. Cover with plastic wrap and chill 2 to 3 hours and up to overnight.
Step 4
4
Preheat oven to 350°. Scoop dough into 1-tbsp. balls. Roll in turbinado sugar.
Step 5
5
Set balls on greased baking sheets at least 2 in. apart. Bake until dry-looking around edges, 8 to 10 minutes. Let cool on baking sheets just until set, then transfer to cooling racks.
Step 6
6
*Look for "trans fat-free" on the label.
Step 7
7
Make ahead: Baked cookies, up to 1 week, airtight at room temperature.
Nutrition Facts
Servings 0
---
Amount Per Serving

Calories 86

Calories from Fat 33

% Daily Value *

Total Fat 3.1g

5

%

Saturated Fat 1.4g

7

%

Cholesterol 7.4mg

3

%

Sodium 45mg

2

%

Total Carbohydrate 14g

5

%

Dietary Fiber 0.3g

2

%

Protein 0.7g

2

%
---
* Percent Daily Values are based on a 2,000 calorie diet. Your daily value may be higher or lower depending on your calorie needs.