Print Options:
DIY Chicken Papaya Spring Rolls


Yields
Serves 4


Prep Time
30 mins
Vietnamese spring rolls always make great light-dinner fare, but the assembly can be time-consuming. Here's our solution: Set out the ingredients and let guests make their own. They'll have fun playing with their food, and the cook won't get stuck with all the prep work.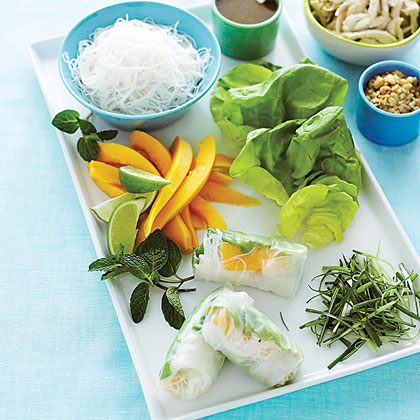 Photo: Iain Bagwell; Styling: Kevin Crafts
4 ounces thin rice noodles
1 head butter lettuce, broken into leaves
3 cups shredded rotisserie chicken
2 papayas, peeled, seeded, and thinly sliced
About 1 cup fresh mint leaves
1/2 cup purchased spicy peanut sauce
1/2 cup chopped roasted salted peanuts
3 green onions, sliced into thin strips
12 large sheets rice paper*
Step 1
1
Cook noodles according to package directions. Drain.
Step 2
2
Arrange noodles and remaining ingredients on large platters and set out with a large bowl of boiling water so diners can dip their rice papers (about 1 minute to soften), then assemble their spring rolls.
Step 3
3
*Find at your grocery store's Asian foods aisle or an Asian market.
Step 4
4
Note: Nutritional analysis is per 3-roll serving.
Nutrition Facts
Servings 0
---
Amount Per Serving

Calories 501

Calories from Fat 31

% Daily Value *

Total Fat 17g

27

%

Saturated Fat 3.1g

16

%

Cholesterol 32mg

11

%

Sodium 784mg

33

%

Total Carbohydrate 68g

23

%

Dietary Fiber 6.5g

26

%

Protein 24g

48

%
---
* Percent Daily Values are based on a 2,000 calorie diet. Your daily value may be higher or lower depending on your calorie needs.