Print Options:
Deviled Cucumber Cups


Yields
Makes 24 cucumber cups (8 servings)

These pretty little bites showcase the bright color of pasture-raised chicken's eggs. Prep and Cook Time: about 1 hour. Notes: You'll need two round, fluted biscuit cutters, each at least 3/4 in. high: one 1 1/2 in. in diameter (for the narrower parts of the cucumber), the other 2 in. (for the fatter sections). A melon baller is useful too. You can make both the filling and cucumber cups up to 1 day ahead and chill them separately, covered; blot cucumbers dry before filling.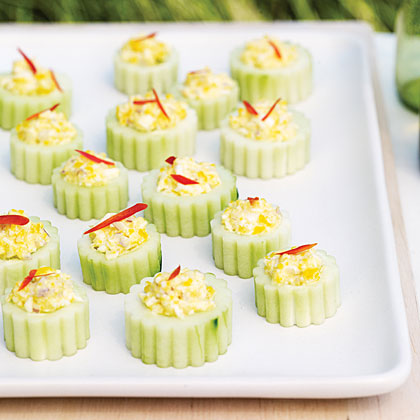 4 medium cucumbers (each at least 7 in. long)
2 1/2 tablespoons minced red onion, rinsed (about 1/2 small red onion)
About 1 tsp. fresh lemon juice
1 to 2 red or green serrano chiles, seeded and slivered, for garnish
Step 1
1
Put eggs in a medium pot and cover with cold water. Bring to a boil, then cover, remove pot from heat, and let sit 14 minutes. With a slotted spoon, transfer eggs to a bowl of ice and cold water (reserve hot water in pot). Cool eggs at least 10 minutes, then use a slotted spoon to transfer eggs back to hot water (to loosen shells) for 10 to 20 seconds. Pat dry and peel.
Step 2
2
Meanwhile, cut cucumbers into 24 rounds (3/4 in. thick each; you may have some cucumber left over). Using the size of biscuit cutter that fits best (see Notes), cut out fluted rounds. With a melon baller or small spoon, scoop seeds from centers of cucumber rounds, leaving at least a 1/4-in layer of seeds and/or flesh. Set on a baking sheet.
Step 3
3
Shred eggs with a razor-sharp grater (such as a Microplane) or against the finest slatted (not punched-out) holes of a box grater and put in a medium bowl. Add mayonnaise, red onion, 1 tsp. lemon juice, and 1/2 tsp. salt. Mash mixture together with a fork.
Step 4
4
Fill cups with egg mixture, mounding slightly. Sprinkle each with salt and a few drops of lemon juice to taste and garnish with a sliver of serrano.
Step 5
5
Note: Nutritional analysis is per cucumber cup.
Nutrition Facts
Servings 0
---
Amount Per Serving

Calories 22

Calories from Fat 68

% Daily Value *

Total Fat 1.7g

3

%

Saturated Fat 0.4g

2

%

Cholesterol 28mg

10

%

Sodium 54mg

3

%

Total Carbohydrate 0.8g

1

%

Dietary Fiber 0.2g

1

%

Protein 1g

2

%
---
* Percent Daily Values are based on a 2,000 calorie diet. Your daily value may be higher or lower depending on your calorie needs.