Print Options:
Creamy Breakfast Polenta


Yields
Makes about 6 cups; 4 to 6 servings

Notes: If crème fraîche is unavailable, use lightly sweetened sour cream. We like this soft polenta topped with blackberry jam, but it's equally delicious topped with another jam, fresh fruit, or butter and maple syrup.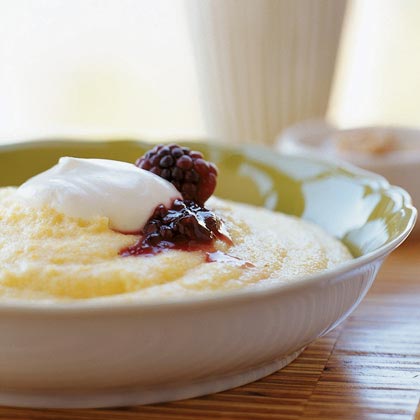 James Carrier
4 to 6 tablespoons blackberry jam (see notes)
Lightly sweetened whipped crème fraîche (optional; see notes)
Step 1
1
In a 2 1/2- to 3-quart pan over high heat, bring 3 cups water and the milk to a boil. Reduce heat so liquid is barely boiling.Stirring constantly, pour in polenta in a thin, steady stream, pausing occasionally to break up any lumps. Stir in sugar and salt.
Step 2
2
Simmer, stirring often, until polenta is soft and creamy to bite, 20 to 40 minutes (if heat is too high, bubbles may "spit" globs of hot polenta out of the pan).
Step 3
3
Ladle polenta into bowls and top each serving with about 1 tablespoon blackberry jam and a dollop of crème fraîche.
Nutrition Facts
Servings 0
---
Amount Per Serving

Calories 292

Calories from Fat 8.2

% Daily Value *

Total Fat 2.7g

5

%

Saturated Fat 1.5g

8

%

Cholesterol 9.8mg

4

%

Sodium 262mg

11

%

Total Carbohydrate 59g

20

%

Dietary Fiber 4.9g

20

%

Protein 8.2g

17

%
---
* Percent Daily Values are based on a 2,000 calorie diet. Your daily value may be higher or lower depending on your calorie needs.