Print Options:
Creamed Spinach Gratin


Yields
Makes 12 servings


Cook Time
20 mins
By topping parmesan-flavored creamed spinach with a bread crumb topping, this gratin can be made up to a day ahead and needs just a few minutes under the broiler to be hot, crunchy and ready for the table.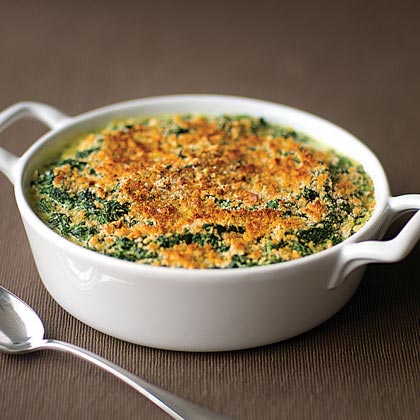 Leo Gong
5 packages (10 oz. each) frozen chopped spinach, defrosted
2 1/2 cups heavy whipping cream
1 cup grated parmesan cheese
1/2 teaspoon freshly ground black pepper
1/2 teaspoon freshly grated nutmeg
1/2 cup fresh bread crumbs
Step 1
1
Butter a shallow 1 1/2- to 2-quart baking dish. Squeeze out as much water as possible from the spinach (use your hands or a clean kitchen towel). Set aside.
Step 2
2
Heat spinach and cream in a large saucepan over medium-high heat. Reduce heat to low and stir in cheese to melt. Stir in salt, pepper, and nutmeg. Adjust seasoning to taste.
Step 3
3
Transfer spinach mixture to buttered baking dish and sprinkle with bread crumbs. Just before serving, place dish in the oven 5 to 6 in. below a broiler set to high; broil until top is golden and crunchy, about 3 minutes.
Step 4
4
Note: Nutritional analysis is per serving.
Nutrition Facts
Servings 0
---
Amount Per Serving

Calories 240

Calories from Fat 79

% Daily Value *

Total Fat 21g

33

%

Saturated Fat 13g

65

%

Cholesterol 74mg

25

%

Sodium 342mg

15

%

Total Carbohydrate 7.4g

3

%

Dietary Fiber 2.5g

10

%

Protein 7.4g

15

%
---
* Percent Daily Values are based on a 2,000 calorie diet. Your daily value may be higher or lower depending on your calorie needs.