Print Options:
Crazed Mom's Easy Steak and Garam Masala Naan-wiches


Yields
Makes 6 servings


Total Time
1 hr 20 mins
Tip from Elaine Johnson, Associate Food Editor: Turn heat super-high. In 1 1/2 hours, can I make dinner while grocery shopping for the week? On my mark: I toss a flank steak (very thin and therefore fast to cook on a hot fire) in a ridiculously easy marinade, dump charcoal in a chimney, alert husband to light the fire, and call children to set the table. Get set: I'm off to the market, where I careen through aisles, piling food into the cart. Back home, go! Toss meat on grill. Zip in house to make sauce from marinade. Warm up bread. Pile watercress in bowl. Slice meat. Sit down with happy family. Total time: 1 hour, 20 minutes. Crazed mom does it again. Prep and Cook Time: 20 minutes, plus 1 hour to marinate. Notes: Many stores such as Trader Joe's sell naan, an Indian flatbread, and garam masala, an earthy Indian spice mixture.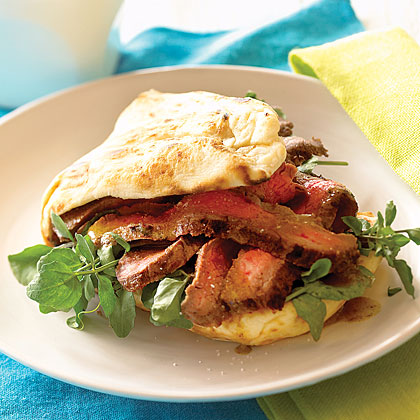 Photo: Annabelle Breakey; Styling: Randy Mon
1 1/2 tablespoons fresh lemon juice
1 1/2 teaspoons garam masala (see Notes)
1/2 teaspoon freshly ground black pepper
1 flank steak (about 1 lb.), fat trimmed
6 naan breads (see Notes; about 3 1/2 in. by 8 in.; 18 oz. total)
3 cups very loosely packed watercress sprigs
Step 1
1
In an 8- or 9-in. glass dish, mix olive oil, lemon juice, garam masala, 1/2 tsp. salt, and the pepper. Turn steak in mixture and let marinate at room temperature 1 hour.
Step 2
2
Prepare a charcoal or gas grill for very high heat (550° to 650°; you can hold your hand 5 in. above cooking grate only 1 to 2 seconds). While grill heats, preheat cooking grate for at least 10 minutes.
Step 3
3
Pour marinade into a small pan and bring to a simmer; remove from heat. Pour 1 tbsp. water into a blender, turn on, drizzle in marinade, and whirl to emulsify.
Step 4
4
Grill steak, covered, turning once, about 5 minutes for medium-rare (cut to test). Lift to a board and loosely cover with foil.
Step 5
5
Grill naan, turning once, until hot and slightly crusty, 1 to 2 minutes. Lift to board.
Step 6
6
Thinly slice steak across the grain. Let each person arrange meat and watercress over half of each naan. Drizzle sauce on top, sprinkle with salt to taste, and fold naan in half to make a sandwich.
Step 7
7
Note: Nutritional analysis is per naan-wich.
Nutrition Facts
Servings 0
---
Amount Per Serving

Calories 457

Calories from Fat 41

% Daily Value *

Total Fat 21g

33

%

Saturated Fat 6.9g

35

%

Cholesterol 38mg

13

%

Sodium 764mg

32

%

Total Carbohydrate 28g

10

%

Dietary Fiber 2.9g

12

%

Protein 25g

50

%
---
* Percent Daily Values are based on a 2,000 calorie diet. Your daily value may be higher or lower depending on your calorie needs.