Print Options:
Cranberry Frangipane Crostata


Yields
Serves 8


Prep Time
1 hr 45 mins

Chill Time
2 hrs 30 mins

Total Time
4 hrs 15 mins
Emmer farro flour, made from whole-grain emmer wheat, gives the crostata a rustic texture and great flavor. Because it's low in gluten, it needs to be mixed with all-purpose flour to hold the crust together. Sweet frangipane (almond pastry cream) mellows the tart cranberries.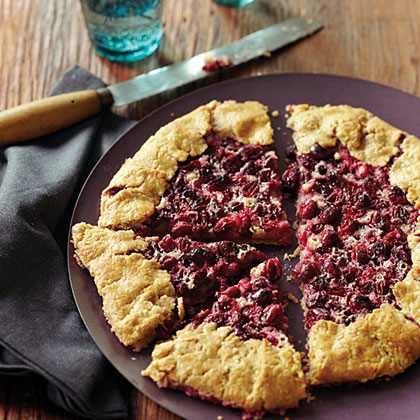 Photo: Yunhee Kim; Styling: Karen Shinto
3/4 cup emmer farro flour
3/4 cup all-purpose flour
1/2 cup plus 2 tbsp. cold unsalted butter, cut into cubes
1/4 cup unsalted butter, at room temperature
1/2 cup plus 2 tbsp. sugar, divided
1/3 cup blanched almonds, finely ground
1 tablespoon emmer farro flour or all-purpose flour
1/4 to 1/2 tsp. almond extract
1/4 teaspoon vanilla extract
3 cups fresh or frozen cranberries
1 large egg, beaten with 1 tsp. water
Step 1
1
Make pastry: In a food processor, pulse flours and salt to mix. Add butter and whirl 3 seconds. Drizzle in 1/3 cup ice water, pulsing until mixture comes together in a shaggy ball but still has bits of butter showing. Form into a disk, wrap airtight, and chill at least 2 hours.
Step 2
2
Make filling: Beat butter and 1/4 cup plus 2 tbsp. sugar in a bowl with a mixer on medium speed until light and fluffy. Switch to low speed, then blend in almonds, then egg, then flour, extracts, and salt until just combined.
Step 3
3
Stir together cranberries, remaining 1/4 cup sugar, and 1 tbsp. water in a medium bowl. Set aside.
Step 4
4
Roll pastry on a floured work surface into a 14-in. circle, turning pastry over and dusting with flour to prevent sticking. Trim edges, then transfer to a piece of parchment paper. Spread frangipane over pastry, leaving a 3-in. border. Top frangipane with cranberries.
Step 5
5
Fold border of dough up and over cranberries, pleating dough as you go (berries will be uncovered in center). Press on pleats to seal, then transfer crostata on parchment to a rimmed baking sheet. Chill 30 minutes (otherwise pastry will ooze).
Step 6
6
Preheat oven to 375°. Brush crust with egg wash. Bake crostata until deep golden brown, about 45 minutes. Loosen from pan with a spatula while still hot.
Step 7
7
Make ahead: Pastry, up to 1 day, chilled. Frangipane, up to 2 days, chilled airtight; return to room temperature before using. Or bake crostata 2 days ahead; keep chilled, then rewarm at 350° for 15 minutes.
Step 8
8
Note: Nutritional analysis is per serving.
Nutrition Facts
Servings 0
---
Amount Per Serving

Calories 422

Calories from Fat 53

% Daily Value *

Total Fat 25g

39

%

Saturated Fat 13g

65

%

Cholesterol 106mg

36

%

Sodium 129mg

6

%

Total Carbohydrate 44g

15

%

Dietary Fiber 3.5g

15

%

Protein 6.9g

14

%
---
* Percent Daily Values are based on a 2,000 calorie diet. Your daily value may be higher or lower depending on your calorie needs.