Print Options:
Couscous Salad with Radicchio and Pistachios


Yields
Makes 8 to 10 servings

Notes: Israeli couscous, sometimes called "pearl couscous" or "toasted pea pasta," is a small, ball-shaped pasta available in some supermarkets and natural-food stores and in Middle Eastern markets. If you can't find it, use orzo pasta instead. Preserved lemons are available in some well-stocked supermarkets and in stores that sell Middle Eastern ingredients. You can make this salad up to 4 hours ahead; cover and chill.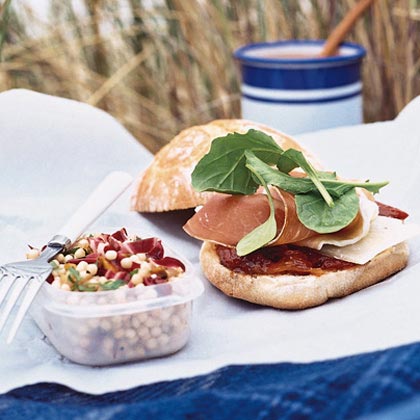 James Carrier
1 pound Israeli couscous or orzo pasta (see notes)
3 tablespoons extra-virgin olive oil
1 head (about 8 oz.) radicchio, rinsed, cored, and thinly sliced
1/2 cup chopped shelled roasted pistachios
1/4 cup minced preserved lemon
Step 1
1
In a 5- to 6-quart pan over high heat, bring about 4 quarts water to a boil. Add couscous and cook just until tender to bite, about 6 minutes (10 for orzo). Drain and rinse under cold running water until cool.
Step 2
2
Meanwhile, in a large bowl, mix vinegar and olive oil. Add couscous, radicchio, pistachios, parsley, and preserved lemon. Mix gently to coat, adding salt and pepper to taste.
Nutrition Facts
Servings Makes 8 to 10 servings
---
Amount Per Serving

Calories 250

Calories from Fat 27

% Daily Value *

Total Fat 7.6g

12

%

Saturated Fat 1.1g

6

%

Cholesterol 0.0mg

0

%

Sodium 244mg

11

%

Total Carbohydrate 38g

13

%

Dietary Fiber 2.6g

11

%

Protein 7.5g

15

%
---
* Percent Daily Values are based on a 2,000 calorie diet. Your daily value may be higher or lower depending on your calorie needs.