Print Options:
Coconut-Cranberry Chews


Yields
Makes about 6 dozen cookies

Nancy Jamison was right when she wrote us that these cookies are addictive. We loved their combination of coconut, cranberries, and orange. In fact, these straightforward, tasty rounds are everything a holiday cookie should be. The mixture will look dry until it comes together as a dough. If it's too crumbly to form into balls, the dough needs to be mixed longer; it should be a smooth, homogeneous mass.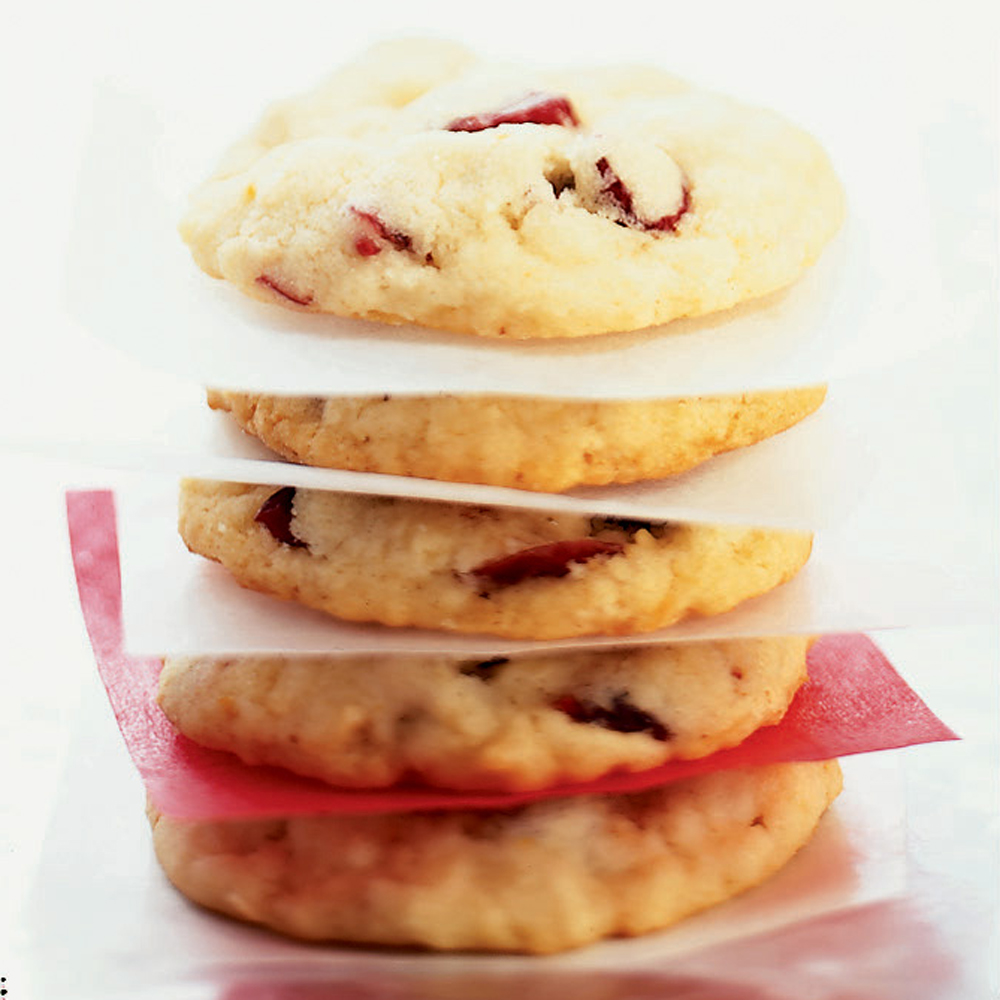 About 1 1/2 cups (3/4 lb.) butter or margarine, at room temperature
1 tablespoon grated orange peel
3 1/4 cups all-purpose flour
1 1/2 cups dried cranberries
1 1/2 cups sweetened flaked dried coconut
Step 1
1
In a large bowl, with a mixer on medium speed, beat 1 1/2 cups butter, sugar, orange peel, and vanilla until smooth.
Step 2
2
In a medium bowl, mix flour, baking powder, and salt. Add to butter mixture, stir to mix, then beat on low speed until dough comes together, about 5 minutes. Mix in cranberries and coconut.
Step 3
3
Shape dough into 1-inch balls and place about 2 inches apart on buttered 12- by 15-inch baking sheets.
Step 4
4
Bake in a 350° regular or convection oven until cookie edges just begin to brown, 8 to 11 minutes (shorter baking time will yield a chewier cookie; longer baking time will yield a crispier cookie). If baking two sheets at once in one oven, switch their positions halfway through baking. Let cookies cool on sheets for 5 minutes, then use a wide spatula to transfer to racks to cool completely.
Step 5
5
Nutritional analysis per cookie.
Nutrition Facts
Servings Makes about 6 dozen cookies
---
Amount Per Serving

Calories 92

Calories from Fat 45

% Daily Value *

Total Fat 4.5g

7

%

Saturated Fat 2.8g

14

%

Cholesterol 10mg

4

%

Sodium 58mg

3

%

Total Carbohydrate 12g

4

%

Dietary Fiber 0.4g

2

%

Protein 0.7g

2

%
---
* Percent Daily Values are based on a 2,000 calorie diet. Your daily value may be higher or lower depending on your calorie needs.