Print Options:
Chinese Long Beans with XO Sauce


Yields
Serves 6


Total Time
25 mins
Billy Ngo, now chef at Kru, a Japanese restaurant in Sacramento, shared this dish inspired by his previous restaurant, Red Lotus. Cut the long beans for easy serving, or keep them whole to symbolize longevity.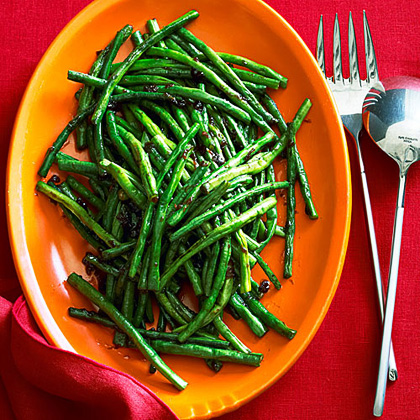 Photo: Annabelle Breakey; Styling: Karen Shinto
1 pound Chinese long beans*, cut into 4-in. lengths
1 tablespoon vegetable oil
2 teaspoons XO sauce*, or prepared oyster sauce plus 1 tsp. Asian chili oil
2 tablespoons hoisin sauce
Step 1
1
Bring a medium pot of water to a boil. Cook beans in water until bright green and tender, about 5 minutes. Drain.
Step 2
2
Heat oil in a wok or large frying pan over high heat. Add beans and cook, stirring frequently, until starting to brown, about 4 minutes. Mix XO sauce and hoisin in a small bowl. Add sauce to beans, stirring to coat, and cook until sauce is fragrant and coats beans, about 3 minutes.
Step 3
3
*Find long beans and XO sauce, a dried seafood-based condiment, at Asian grocery stores.
Step 4
4
Make ahead: Up to 1 day, chilled; microwave to rewarm.
Step 5
5
Note: Nutritional analysis is per serving.
Nutrition Facts
Servings 0
---
Amount Per Serving

Calories 60

Calories from Fat 50

% Daily Value *

Total Fat 3.4g

6

%

Saturated Fat 0.4g

2

%

Cholesterol 0.2mg

1

%

Sodium 145mg

7

%

Total Carbohydrate 7.2g

3

%

Dietary Fiber 2g

8

%

Protein 1.4g

3

%
---
* Percent Daily Values are based on a 2,000 calorie diet. Your daily value may be higher or lower depending on your calorie needs.