Print Options:
Chicken Cacciatore


Yields
Makes 2 main dishes, 4 servings each


Prep Time
1 hr 15 mins

Cook Time
1 hr 15 mins

Total Time
2 hrs 30 mins
This make-ahead version of classic chicken cacciatore features a homemade tomato sauce that you pour over the chicken before freezng. When you're ready to serve you can thaw, bake, and serve with noodles and shredded Parmesan cheese.  Thaw overnight (the night before serving, place container of frozen food in the refrigerator) or bake directly from the freezer, allowing about 1 1/2 hours.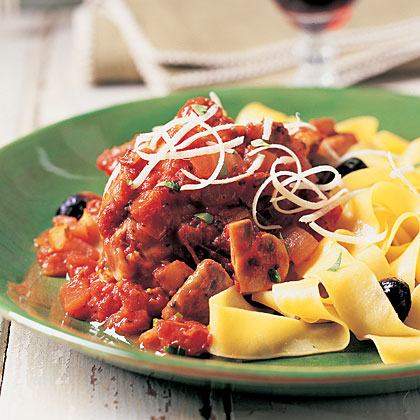 16 chicken thighs (4 1/2 to 5 lb. total), skinned and fat-trimmed
2 1/2 cups chopped onions
1 pound mushrooms, rinsed, drained, and quartered
1 tablespoon minced garlic
2 teaspoons dried oregano
1 cup salt-cured olives, pitted
Step 1
1
Rinse chicken and pat dry. Sprinkle lightly with salt and pepper.
Step 2
2
Pour 1 tablespoon oil into a 10- to 12-inch nonstick frying pan over medium-high heat. When hot, add 1/2 the chicken and brown well, 6 to 8 minutes total. As thighs are browned, transfer to a foil pan (8 to 9 in. square). Add 1 more tablespoon oil to frying pan and repeat to brown remaining chicken. Transfer to another foil pan (8 to 9 in. square).
Step 3
3
To frying pan, add remaining 1 tablespoon oil and the onions, mushrooms, garlic, oregano, and parsley. Stir often over medium-high heat until vegetables are limp, 12 to 15 minutes.
Step 4
4
Stir in tomato sauce and wine. Bring to a boil over high heat, stirring often; reduce heat, cover, and simmer about 20 minutes to blend flavors.
Step 5
5
Add olives to sauce. Let cool to room temperature, 45 minutes to 1 hour. Pour evenly over chicken in pans.
Step 6
6
Seal pans with foil, and freeze (see Cold Facts below).
Step 7
7
Thaw 1 pan (see notes). Bake, covered, in a 375° oven until chicken is no longer pink at bone (cut to test), 1 to 1 1/4 hours.
Step 8
8
Cold Facts. Packaging: foil pans. Seal foil pans with a double layer of foil to protect foods for storage. Label each dish with permanent marker. Make a master list of the dishes. As you remove each from the freezer, cross it off the list. For best quality, freeze meat mixtures no longer than six weeks, others three months.
Step 9
9
Note: Nutritional analysis is per serving.
Nutrition Facts
Servings 0
---
Amount Per Serving

Calories 376

Calories from Fat 43

% Daily Value *

Total Fat 18g

28

%

Saturated Fat 2.9g

15

%

Cholesterol 121mg

41

%

Sodium 1026mg

43

%

Total Carbohydrate 18g

6

%

Dietary Fiber 3.5g

15

%

Protein 33g

66

%
---
* Percent Daily Values are based on a 2,000 calorie diet. Your daily value may be higher or lower depending on your calorie needs.