Print Options:
Chai (Spiced Indian-Style Tea)


Total Time
15 mins

Total Time
15 mins
From Badmaash restaurant, in Los Angeles, this aromatic tea, called "cutting chai" in India, is served in small glasses because it's so strong ("cutting" is the transliteration of the Hindi word for "half"). The black cardamom gives it a smoky, earthy flavor; we recommend starting with the lower amount.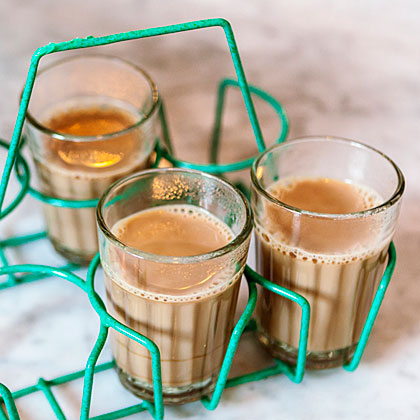 Photo: Lisa Corson
4 teaspoons loose-leaf black tea, such as Assam
1 or 2 cinnamon sticks (each about 2 1/2 in. long)
1 or 2 black (also called brown) cardamom* pods, crushed with a rolling pin or mallet
2 to 4 green cardamom pods, crushed with a rolling pin or mallet
1 or 2 quarter-size slices fresh ginger
1 cup whole or low-fat milk
Step 1
1
Pour 2 cups water into a medium saucepan and add tea and spices. Bring to a boil over high heat and boil 2 minutes.
Step 2
2
Add sugar and milk and return to a boil. Reduce heat to medium and boil gently 2 minutes, stirring occasionally. Strain and pour into small cups or heatproof glasses.
Step 3
3
*Find black cardamom in the spice aisle of well-stocked supermarkets, at Indian markets, and at worldspice.com.
Nutrition Facts
---
Amount Per Serving

Calories 49

Calories from Fat 31

% Daily Value *

Total Fat 1.7g

3

%

Saturated Fat 0.9g

5

%

Cholesterol 4.9mg

2

%

Sodium 21mg

1

%

Total Carbohydrate 7.2g

3

%

Dietary Fiber 0.5g

2

%

Protein 1.7g

4

%
---
* Percent Daily Values are based on a 2,000 calorie diet. Your daily value may be higher or lower depending on your calorie needs.