Print Options:
Celery Root Salad


Yields
Makes 8 cups; 6 to 8 servings

Notes: You can make this salad up to 1 day ahead; cover and chill. Bring to room temperature before serving, and season to taste with additional vinegar, salt, and pepper.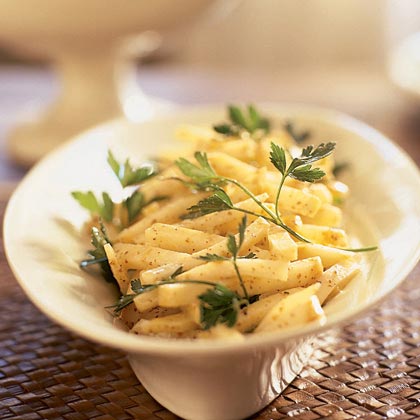 James Carrier
1/4 cup extra-virgin olive oil
2 tablespoons whole-grain mustard
2 tablespoons champagne vinegar or white wine vinegar
1/2 cup Italian parsley sprigs, rinsed and long stems trimmed
Step 1
1
In a bowl, whisk olive oil, mustard, vinegar, and 1/4 teaspoon salt to blend.
Step 2
2
In a 4- to 6-quart pan, bring 3 to 4 quarts water to a boil. Meanwhile, peel celery root and cut into 2-inch-long matchstick-size strips. Add celery root to water and cook until tender-crisp, 2 to 3 minutes. Drain and immediately add to dressing, along with parsley. Mix to coat. Add salt and pepper to taste. Serve warm or at room temperature.
Nutrition Facts
Servings Makes 8 cups; 6 to 8 servings
---
Amount Per Serving

Calories 94

Calories from Fat 69

% Daily Value *

Total Fat 7.2g

12

%

Saturated Fat 1g

5

%

Cholesterol 0.0mg

0

%

Sodium 191mg

8

%

Total Carbohydrate 7.1g

3

%

Dietary Fiber 0.2g

1

%

Protein 1.2g

3

%
---
* Percent Daily Values are based on a 2,000 calorie diet. Your daily value may be higher or lower depending on your calorie needs.