Print Options:
Caviar Tartlets


Yields
Makes 45 tartlets

To make these easy, stylish appetizers, use domestic red, black, or golden caviar or fish roe, or some of each, for visual contrast. Crisp filo pastry shells, about 1 inch in diameter, are available in well-stocked supermarkets.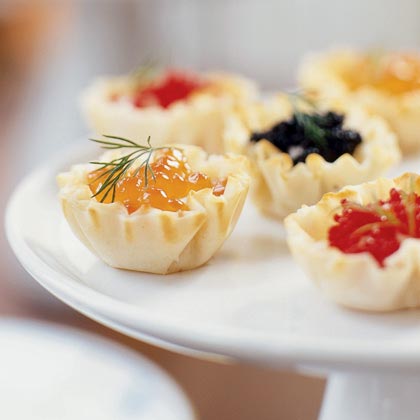 James Carrier
About 8 ounces sour cream
3 packages (2.1 oz. each) frozen small filo pastry shells, thawed (see notes)
About 4 ounces caviar or other fish roe (see notes)
Fresh chervil leaves or small sprigs fresh dill (optional), rinsed
Step 1
1
Spoon about 1/2 teaspoon sour cream into each filo shell, then 1/2 to 1 teaspoon caviar. If desired, garnish each tartlet with a leaf of chervil or a small sprig of dill.
Step 2
2
Nutritional analysis per tartlet.
Nutrition Facts
Servings 0
---
Amount Per Serving

Calories 35

Calories from Fat 57

% Daily Value *

Total Fat 2.2g

4

%

Saturated Fat 0.7g

4

%

Cholesterol 17mg

6

%

Sodium 64mg

3

%

Total Carbohydrate 2.8g

1

%

Dietary Fiber 0.0g

0

%

Protein 1.1g

3

%
---
* Percent Daily Values are based on a 2,000 calorie diet. Your daily value may be higher or lower depending on your calorie needs.