Print Options:
Carrot Salad with Red Quinoa and Chickpeas


Yields
Serves 6 to 8


Total Time
35 mins
This healthy salad is picnic-perfect, because the carrots stay crunchy and the quinoa and chickpeas keep their texture. (Regular quinoa works fine in this recipe, if you can't find the red variety.)
Picnic tip: This salad is delicious at room temperature, so if you'll be eating it within 2 hours, there's no need to pack it in the cooler.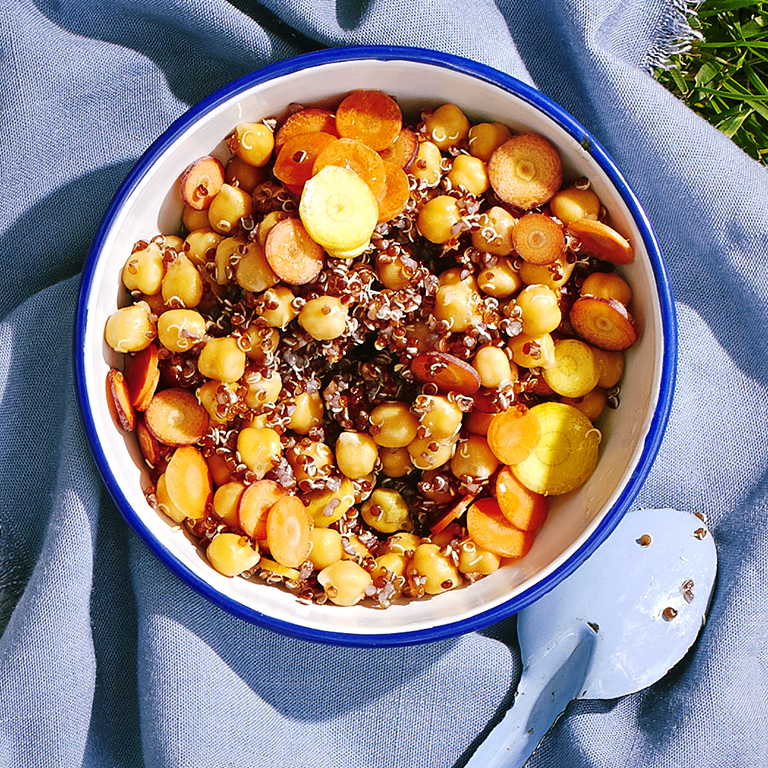 Photo: Annabelle Breakey; Styling: Jeffrey Larsen
3 tablespoons extra-virgin olive oil
1 1/2 teaspoons kosher salt
4 medium rainbow or regular carrots (about 12 oz. total), peeled and thinly sliced*
1 can (15 oz.) chickpeas (garbanzos), drained and rinsed
Step 1
1
Rinse quinoa well and cook according to package instructions. Spread on a rimmed baking sheet to cool.
Step 2
2
Meanwhile, whisk lemon juice with oil, salt, and sugar in a large bowl. Add carrots and toss to coat.
Step 3
3
Mix in cooled quinoa and chickpeas, then transfer salad to a lidded container.
Step 4
4
*Using a hand-held slicer makes the slicing go faster.
Step 5
5
Make ahead: Up to 2 days, covered and chilled.
Nutrition Facts
Servings 0
---
Amount Per Serving

Calories 136

Calories from Fat 40

% Daily Value *

Total Fat 6.1g

10

%

Saturated Fat 0.8g

4

%

Cholesterol 0.0mg

0

%

Sodium 368mg

16

%

Total Carbohydrate 18g

6

%

Dietary Fiber 1.9g

8

%

Protein 3.4g

7

%
---
* Percent Daily Values are based on a 2,000 calorie diet. Your daily value may be higher or lower depending on your calorie needs.