Print Options:
Caramel Pear and Cranberry Pudding Cake


Yields
Serves 6 to 8


Total Time
2 hrs 45 mins
Make this cake when you don't have oven space but want something special after dinner. If you like, serve it with vanilla ice cream instead of crème fraîche, or substitute other favorite fruit for the pears and cranberries.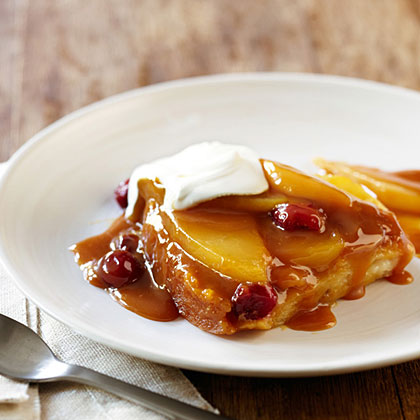 Photo: Yunhee Kim; Styling: Emma Star Jensen
2/3 cup good-quality caramel sauce, warmed
2 ripe Bartlett pears, peeled, cored, and sliced
2 tablespoons butter, melted
Step 1
1
Coat the cooking insert of a 5- to 6-qt. slow-cooker* all over with cooking-oil spray. Evenly spread caramel on bottom, then top with an even layer of pears. Sprinkle with cranberries.
Step 2
2
Whisk together flour, sugar, salt, baking powder, milk, and butter in a medium bowl until mostly smooth with only tiny lumps remaining. Pour over fruit and spread with a spatula to cover evenly.
Step 3
3
Cover and cook until a toothpick inserted in cake portion comes out clean, about 1 hour and 20 minutes on high or 2 1/4 hours on low.
Step 4
4
Remove basin from slow-cooker and let pudding cake cool 5 minutes. Spoon onto plates, pear side up, and dollop with crème fraîche.
Step 5
5
*You can use a 4-qt. slow-cooker, but may need to increase the cooking time.
Nutrition Facts
Servings Serves 6 to 8
---
Amount Per Serving

Calories 179

Calories from Fat 22

% Daily Value *

Total Fat 4.4g

7

%

Saturated Fat 2.6g

13

%

Cholesterol 12mg

4

%

Sodium 243mg

11

%

Total Carbohydrate 33g

11

%

Dietary Fiber 2.2g

9

%

Protein 3.1g

7

%
---
* Percent Daily Values are based on a 2,000 calorie diet. Your daily value may be higher or lower depending on your calorie needs.