Print Options:
Buttery Dinner Rolls


Yields
Makes 24 rolls

This dough is so easy to work with that we find ourselves making it over and over again, with slight variations. Prep and Cook Time: 3 hours. Notes: This dough also makes a lovely loaf of bread. After you have punched it down in step 3, shape it into a large oval. Or, for a braided loaf, divide the dough into 3 pieces and roll each into a 14-in. rope. Press the ropes together at 1 end, braid them, and press the other ends together to seal. Moisten both ends with water to strengthen the seal. Put loaf on a buttered baking sheet, cover, and let rise as directed in step 3. Bake until golden brown and hollow-sounding when tapped on the bottom, about 40 minutes.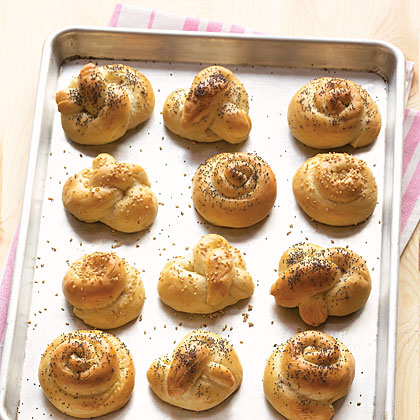 1 tablespoon active dry yeast
1/2 cup butter, softened, plus more for sheets
3 1/2 to 4 cups all-purpose flour, plus more for kneading and shaping
Step 1
1
Microwave milk, uncovered, until warm (90° to 105°), about 20 seconds at full power. Put in the bowl of a stand mixer. Stir in yeast, salt, and sugar. Let sit until foamy, about 5 minutes.
Step 2
2
Attach dough hook and, with mixer on low, stir in butter and 1 egg. Add flour, 1/2 cup at a time, until a stiff dough forms and pulls away from inside of bowl. Cover with a clean towel or plastic wrap and let sit until doubled in bulk, about 1 1/2 hours. Meanwhile, butter 2 large baking sheets and set aside.
Step 3
3
Punch down dough and turn it onto a floured surface. Knead a few times, adding more flour if necessary to keep dough from sticking. Divide dough into 24 pieces. Working with 1 piece at a time (keep other pieces covered), roll into a 10-in. rope. Coil rope into a flat spiral or twist into a pretzel shape, pinching ends in place. Put shaped rolls on buttered baking sheets. Cover and let sit until doubled in bulk, about 45 minutes. Meanwhile, preheat oven to 350°.
Step 4
4
In a small bowl, beat remaining egg with 2 tbsp. water. Brush rolls with egg wash and bake until brown, about 20 minutes, rotating pans halfway through baking time to ensure even baking. Cool on wire racks. Serve warm or at room temperature.
Step 5
Step 6
6
Seed Rolls: After brushing rolls with egg wash in step 4, sprinkle them with 1 tbsp. poppy seeds, sesame seeds, or onion seeds.
Step 7
7
Cheese Rolls: Add 1 1/2 cups freshly shredded cheddar or gruyère cheese to the dough with the butter and egg in step Sprinkle rolls with additional cheese before baking, if you like.
Step 8
8
Herb Rolls: Add 3 tbsp. minced fresh herbs—such as oregano, rosemary, thyme, or basil—to the dough with the butter and egg in step
Step 9
9
Saffron Rolls: Add 1/2 tsp. saffron threads to the milk in step
Step 10
10
Note: Nutritional analysis is per roll.
Nutrition Facts
Servings 0
---
Amount Per Serving

Calories 134

Calories from Fat 34

% Daily Value *

Total Fat 5.1g

8

%

Saturated Fat 2.9g

15

%

Cholesterol 30mg

10

%

Sodium 151mg

7

%

Total Carbohydrate 19g

7

%

Dietary Fiber 0.7g

3

%

Protein 3.2g

7

%
---
* Percent Daily Values are based on a 2,000 calorie diet. Your daily value may be higher or lower depending on your calorie needs.