Print Options:
Broccoli Soup Shots with Cheddar Bites


Yields
Serves 10


Total Time
35 mins
A few tips for making great grilled cheese sandwiches: Grate the cheese (it'll melt evenly); butter the outsides of the bread, instead of putting butter in the pan; and cover the pan as you cook.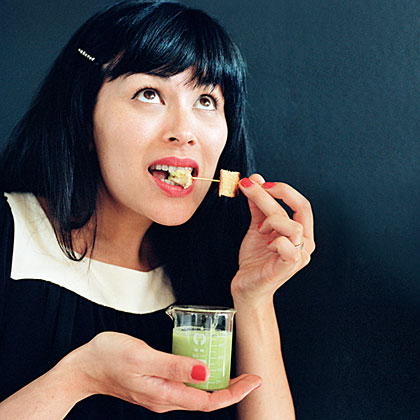 Photo: Thayer Allyson Gowdy; Styling: Miranda Jones
1 pound steamed broccoli florets
2 grilled cheese sandwiches made with white cheddar and sourdough, crusts trimmed
Step 1
1
Heat broth, half-and-half, salt, and pepper in a small saucepan until simmering. Add broccoli. Working in batches, purée mixture in a blender until very smooth.
Step 2
2
Cut each sandwich into 1-in. squares.
Step 3
3
Divide soup among 10 shot glasses. For each, push a decorative skewer* through 2 mini sandwiches and set over glass.
Step 4
4
*We got our skewers from Pick On Us (pickonus.com).
Step 5
5
Note: Nutritional analysis is per serving.
Nutrition Facts
Servings 0
---
Amount Per Serving

Calories 181

Calories from Fat 46

% Daily Value *

Total Fat 9.3g

15

%

Saturated Fat 5.4g

27

%

Cholesterol 25mg

9

%

Sodium 522mg

22

%

Total Carbohydrate 17g

6

%

Dietary Fiber 2.1g

9

%

Protein 7.5g

15

%
---
* Percent Daily Values are based on a 2,000 calorie diet. Your daily value may be higher or lower depending on your calorie needs.