Print Options:
Broccoli Romanesco with Green Herb Sauce


Yields
Serves 6 to 8 (3/4 cup sauce)


Total Time
50 mins
Whorled broccoli romanesco is an exotic treat, yet it's very easy to prepare--just steam until tender. If you can't find small heads, just break a full-grown head into florets (cauliflower works too). This recipe is adapted from one in Vegetable Literacy (Ten Speed Press, 2013), by Deborah Madison.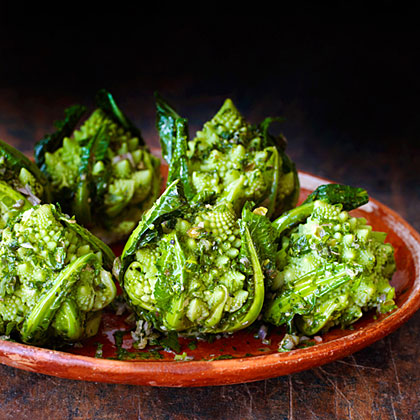 Photo: Aya Brackett; Styling: Amy Wilson
6 to 8 baby heads broccoli romanesco*; or 1 full-size head or 1 head cauliflower, broken into florets
1/2 cup coarsely chopped flat-leaf parsley leaves
1 teaspoon chopped fresh oregano
1 teaspoon chopped fresh thyme leaves
2 tablespoons lemon juice
2 tablespoons brined capers, rinsed and chopped
2 tablespoons finely diced shallot (about 1 medium)
1 small garlic clove, minced
1/2 cup extra-virgin olive oil
Step 1
1
Peel only toughest outer leaves from broccoli romanesco, leaving tender inner ones attached. Steam broccoli in a steamer basket over simmering water, covered, until tender to the core when pierced with a knife, 15 to 20 minutes. Put in a serving dish.
Step 2
2
Meanwhile, mix remaining ingredients, seasoning with salt and pepper to taste.
Step 3
3
Spoon about half the green herb sauce over broccoli and turn gently to coat. Serve warm or at room temperature, with extra sauce on the side.
Step 4
4
*Find at farmers' markets in fall and winter, and increasingly at well-stocked grocery stores.
Step 5
5
Make ahead: Sauce, up to 1 day, chilled (add lemon juice at the last minute, or it will dull the sauce's color). Broccoli romanesco may be steamed a few hours ahead; let sit, loosely covered, at room temp (if chilled overnight in a container, it gets sulfurous).
Step 6
6
Note: Nutritional analysis is per serving with 1 Tbsp. extra sauce.
Nutrition Facts
Servings Serves 6 to 8 (3/4 cup sauce)
---
Amount Per Serving

Calories 143

Calories from Fat 85

% Daily Value *

Total Fat 14g

22

%

Saturated Fat 2g

10

%

Cholesterol 0.0mg

0

%

Sodium 84mg

4

%

Total Carbohydrate 4.8g

2

%

Dietary Fiber 1.7g

7

%

Protein 1.8g

4

%
---
* Percent Daily Values are based on a 2,000 calorie diet. Your daily value may be higher or lower depending on your calorie needs.