Print Options:
Billy's Vegan Egg Rolls


Yields
Serves 6 to 9 (makes about 18)


Total Time
1 hr 30 mins
Billy Ngo, now chef at Kru, a Japanese restaurant in Sacramento, shared this dish inspired by his previous restaurant, Red Lotus. He deep-fries these, but at home it's easier to brush them with oil and bake them until they're crisp. If you're short on time, you could buy plum sauce instead of making the vinegar-pink peppercorn sauce.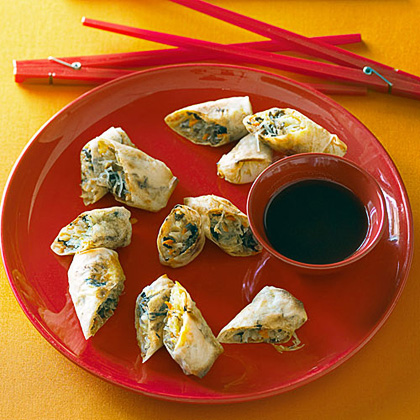 Photo: Annabelle Breakey; Styling: Karen Shinto
1 tablespoon pink peppercorns, crushed
1 cup Chinese red rice vinegar* or regular (Japanese-style) rice vinegar
2 ounces bean threads (mung bean noodles)*
1 1/2 tablespoons toasted sesame oil
1 1/2 teaspoons plus 1 tbsp. vegetable oil
1 1/2 qts. thinly sliced cabbage
1 cup chopped fresh wood ear* or shiitake mushrooms
About 18 fresh egg roll wrappers (5 in. square)
Step 1
1
Simmer peppercorns, vinegar, and sugar in a small saucepan over low heat until reduced by half, about 18 minutes. Stir in ketchup, then strain. Chill until ready to use.
Step 2
2
Drop noodles into a bowl of very hot water. Let sit, stirring occasionally, until soft and clear, about 4 minutes. Drain, cut up a bit with scissors, and set aside.
Step 3
3
Heat sesame oil and 1 1/2 tsp. vegetable oil in a large frying pan over medium-high heat. Add cabbage, carrots, mushrooms, salt, and pepper and cook until wilted and starting to brown. Add reserved noodles and stir to combine.
Step 4
4
Preheat oven to 450°. Lay 1 egg roll wrapper on a work surface so a corner is facing you. Spoon about 1/4 cup filling just below center. Brush top corner with a bit of water. Lift bottom corner up and over filling, then fold in sides and roll to top corner to seal. Set finished egg roll on a baking sheet lined with parchment paper. Make more egg rolls the same way until filling is gone.
Step 5
5
Brush rolls on both sides with remaining 1 tbsp. vegetable oil, turning to coat. Bake rolls, turning occasionally, until browned and crisp, 17 to 20 minutes. Cut in half and serve with sauce.
Step 6
6
*Find Chinese red rice vinegar and wood ear mushrooms at Asian grocery stores and bean threads in the Asian-foods aisle of well-stocked supermarkets.
Step 7
7
Make ahead: Up to 4 hours, chilled; reheat on a baking sheet in a 350° oven 10 to 15 minutes.
Step 8
8
Note: Nutritional analysis is per serving.
Nutrition Facts
Servings Serves 6 to 9 (makes about 18)
---
Amount Per Serving

Calories 242

Calories from Fat 19

% Daily Value *

Total Fat 5.4g

9

%

Saturated Fat 0.6g

3

%

Cholesterol 0.0mg

0

%

Sodium 538mg

23

%

Total Carbohydrate 45g

15

%

Dietary Fiber 3.1g

13

%

Protein 6.3g

13

%
---
* Percent Daily Values are based on a 2,000 calorie diet. Your daily value may be higher or lower depending on your calorie needs.