Print Options:
Beer-Battered Razor Clams


Yields
Serves 4 to 6


Total Time
1 hr 30 mins
Among the world's sweetest, most flavorful clams, razors shine in just about any preparation, and deep-frying in beer batter remains a Northwest tradition. Add zing with spices and lemon zest—and make sure to use a simple lager, since more complex microbrews can overwhelm the flavor. Unlike littleneck clams or mussels, razors require quite a bit of cleaning, but it's worth it. Langdon Cook, blogger and author of Fat of the Land, serves them with sweet potato fries, cole slaw, and cold beer.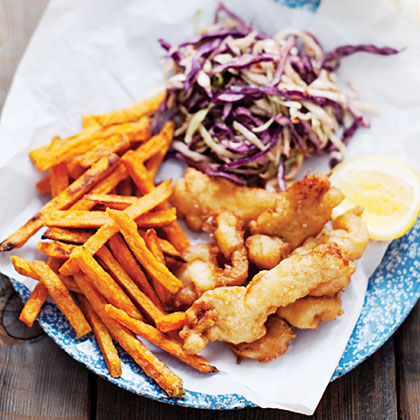 Photo: John Clark
1 bottle (12 oz.) lager beer such as Rainier or Heineken, at room temperature
3 pounds razor clams in the shell*, cleaned; or use 1 1/2 lbs. cleaned razor clam meat or other clam meat, or calamari tubes (cut into rings) and tentacles
Step 1
1
Fill a large, deep pot with 1 1/2 in. oil, insert a deep-fry thermometer, and bring to 375° over medium-high heat. Preheat oven to 200°.
Step 2
2
Whisk egg in a large bowl to blend. Add flour and seasonings, but don't mix. Add beer just before using (so batter keeps some bubbles; this will make the coating light and crisp) and whisk until smooth.
Step 3
3
Add clams to batter and stir to coat well. Using a slotted spoon or tongs, lift out a spoonful of clams, draining excess batter; lower into oil, shaking spoon a bit to separate clumps. Stand back (clams may spatter) and cook until golden all over, turning once, 1 1/2 to 2 minutes; adjust heat as needed to keep oil at 375°.
Step 4
4
Transfer clams to a baking sheet lined with paper towels. Sprinkle lightly with salt and keep warm in oven while you cook remaining clams. Serve immediately with lemon wedges and more salt to taste.
Step 5
5
How to clean razor clams:
Step 6
6
Put clams in a colander and pour boiling water over them just until shells open. Rinse with cold water until cool. Gently pull clams from shells, slicing the muscle that attaches to the shell to free the meat.
Step 7
7
Snip off dark tip of the skinny siphon. With scissors, cut clam lengthwise from siphon to base of the digger (foot) and open.
Step 8
8
Lay clam flat and cut around slippery tan gills, mouth, and digger to separate them from the rest of the white meat.
Step 9
9
Squeeze digger so the dark stomach shows through the meat, then snip around it and gills and remove. If a clear rod pops out, discard it as well.
Step 10
10
Slice digger open lengthwise, open up, and pull out the dark sand vein. The white meat comes out in two neat pieces once you have a little practice. Rinse clam meat.
Step 11
11
*You can also buy razor clams in the shell in season at some West Coast specialty fish shops. Or buy them in the shell (in season) from wildsalmonseafood.com
Nutrition Facts
Servings 0
---
Amount Per Serving

Calories 292

Calories from Fat 28

% Daily Value *

Total Fat 9.4g

15

%

Saturated Fat 1g

5

%

Cholesterol 76mg

26

%

Sodium 327mg

14

%

Total Carbohydrate 19g

7

%

Dietary Fiber 0.5g

2

%

Protein 31g

62

%
---
* Percent Daily Values are based on a 2,000 calorie diet. Your daily value may be higher or lower depending on your calorie needs.