Print Options:
Beef and Star Anise Noodle Soup


Yields
Serves 4


Total Time
4 hrs 30 mins
Time: 3 1/2 hours, plus 1 hour to marinate. This rich, hearty dish is based on the Szechuan beef noodle soup at Queen's House in Mountain View, California.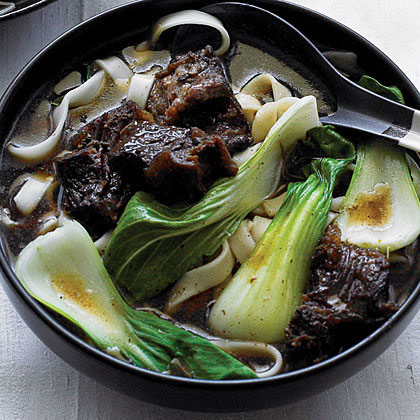 Photo: Iain Bagwell; Styling: Randy Mon
2 tablespoons minced ginger
2 tablespoons minced garlic
4 whole dried Thai chiles
4 star anise pods, broken
3 tablespoons vegetable oil
5 cups reduced-sodium beef broth
freshly ground black pepper
8 ounces baby bok choy, stalks separated
21 ounces fresh or 12 oz. dried thick wheat noodles, such as udon
Step 1
Step 2
2
Preheat oven to 300°. In an 8-qt. pot with ovenproof lid, heat oil over high heat until almost smoking. Lift ribs from marinade (save marinade) and brown on all sides, 4 to 6 minutes total.
Step 3
3
Add marinade, broth, and 2 cups water. Cover pot; bring to a boil. Cook in oven until meat is extremely tender, about 3 hours.
Step 4
4
Remove bones from ribs and discard. Cut larger rib meat into pieces to make 4 equal portions. Skim excess fat from surface of broth if you like. Return meat to broth. Season to taste with salt and pepper. Add bok choy; let sit, covered, a few minutes to wilt.
Step 5
5
Meanwhile, bring a 2-qt. pot of water to a boil. Add noodles and cook until tender, about 3 minutes for fresh and 8 minutes for dried. Drain noodles but don't rinse. Divide evenly among 4 serving bowls. Top with rib pieces and bok choy, dividing evenly, and ladle about 1 1/2 cups broth into each bowl. Serve immediately.
Step 6
6
Make ahead: Once ribs are cooked (through step 3), chill overnight and up to 2 days ahead. Remove any solid fat on top. As directed in step 4, remove bones and cut meat into pieces. Reheat meat in broth over medium heat, add bok choy, and proceed with step
Step 7
7
Note: Nutritional analysis is per serving; sodium amount varies depending on noodles.
Nutrition Facts
Servings 0
---
Amount Per Serving

Calories 871

Calories from Fat 23

% Daily Value *

Total Fat 22g

34

%

Saturated Fat 6.3g

32

%

Cholesterol 67mg

23

%

Sodium 0.0mg

0

%

Total Carbohydrate 120g

40

%

Dietary Fiber 5.8g

24

%

Protein 49g

98

%
---
* Percent Daily Values are based on a 2,000 calorie diet. Your daily value may be higher or lower depending on your calorie needs.